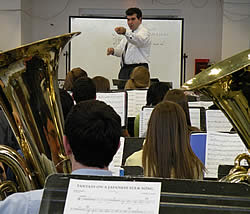 Chicago Heights, IL–(ENEWSPF)– Nationally renowned composer, Samuel R. Hazo, visited Marian Catholic High School recently, stepping in as guest conductor during the concert and symphonic bands practice period. Fine-tuning two of his original scores with Marian musicians, the animated and passionate Hazo led the concert band through his composition, "…GO."
"Hesitation kills bands," he wrote on the whiteboard, then explained. "Hazo's rule number one: Hesitation kills bands, especially for you brass players. Play each note until your horn vibrates," he said, gesturing wildly. "The intensity and emotion of music changes people's lives. YOU have the ability to change people's lives as you play. Read the notes, but feel the music."
When working with the symphonic band on his arrangement of "Fantasy on a Japanese Folk Song," Hazo explained the story behind the musical score.
"This piece is about love, and distance, and family, and different cultures," he said.
Listening to the opening sequence, as played by senior flautist Abriana Anderson (Lynwood) one could hear the tune from a young Japanese girl's prized music box. The theme then migrates to different sections of the band, signifying that two young lovers from different cultures are trying to resolve both internal and external conflicts so they can ultimately be together. A few minor changes to the original score, and Hazo is both satisfied and thankful for the efforts of the talented young musicians.
"I've known Sam Hazo since college," remarked Marian Director of Bands, Greg Bimm. "It's great to have him visit and work with our students."
Hazo, from Pittsburgh, Pennsylvania, became the first composer in history to be awarded the winner of both composition contests sponsored by the National Band Association. He has composed for the professional, university and public school levels in addition to writing original scores for television, radio, and stage.