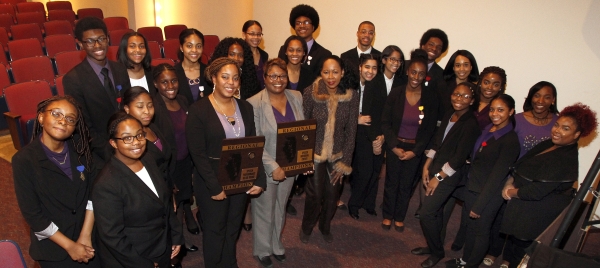 Places First in Performance in the Round Event and Four Other Events
RICHTON PARK, ILL.—(ENEWSPF)–February 5, 2018
By: Richard Barry
Southland College Prep Charter High School, a new Richton Park, Illinois public charter high school, won first place in the Illinois High School Association's Regional Individual Speech Event tournament hosted by Marian Catholic High School February 3.
Having placed second twice in the Regional speech championship in recent years, Southland is gaining a reputation as a speech powerhouse. This marks the first time in the school's eight-year history that as a team, Southland placed first in the Regional speech tournament.
Southland placed first in five of fifteen events in the Marian Catholic event and took second in four competitions to lead the field of 11 Chicago southwest suburban area high schools with 65 points. Marian Catholic placed second with 64 points and Homewood-Flossmoor took third place with 61 points.
Joliet West at 50 points and Joliet Central with 28 points placed fourth and fifth respectively.
Other teams competing in the Regional Speech tournament were: Lincoln-Way Central, Lincoln-Way East, Lincoln-Way West, Rich East, Rich South and Thornton Fractional South.
Southland College Prep placed first in the "Performance-in-the-Round" category.
A 10-member troupe of actors, musicians and student directors staged "We Were Just Children," an original piece written by Lauren Wells, a Southland Speech and Theatre teacher. Her production is a very moving narrative about the 1963 bombing of the 16th Street Baptist Church in Birmingham, Alabama.
Cast members of the Performance in the Round entry are juniors Alexis Eiland, Angelica Ferguson, Keiyonte Ugbesia, Indya Gettings and sophomore Trinity Price. Student directors and musicians are seniors Kaitlyn Barksdale and Kassidy Hayslett, juniors Jayden Posley and Terrance Mayfield and freshman Nyah Ware.
Southland also placed first in four other tournament events: senior Victoria Dean won the Dramatic Interpretation event with an excerpt from the Mississippi Delta: A Memoir; Amaia Howard, a junior, earned a first in Original Oratory for her delivery of Xennial Lives Matter; Junior Jalen Causey read IQ in the Prose Reading event; and junior Armanti Reed performed R.I.PC. in the Special Occasion Speaking competition.
Southland earned second place in four events: seniors Dejah Morris and Victoria Dean took second in Dramatic Duet Acting for their performance of Bourbon at the Border. Juniors Armanti Reed and Markeia Kellogg placed second in the Humorous Duet Acting section with Fairy Tale.
Other second place Southland winners were: Dejah Morris, who delivered an Oratorical Declamation entitled, My Year of Saying Yes to Everything and Jalen Causey, who performed the Color of Life in the Poetry Reading section.
Southland third place winners were: junior Christopher Rapp for Extemporaneous Speaking; Alayna Hester, a senior, for Humorous Interpretation; Janell Alexander, a junior, for Informative Speaking; and Savannah Taffe, a sophomore, for Radio Speaking.
Alayna Hester placed fourth in Original Comedy.
The top four Individual Event Regional winners and the Southland College Prep Performance in the Round cast will compete in the IHSA Sectional Southwest tournament at Thornton High School Saturday, February 10.
Click here for official IHSA Regional Southland College Prep Charter High School Event results: https://www.speechwire.com/r-tournament.php?tournid=7165
Source: http://www.pcipr.com/