Spartan Megan Walsh prepares to rebound during Saturday's Class 4A title game against Rolling Meadows at ISU. (PHOTO SUPPLIED)
Normal, IL-(ENEWSPF)- The third time was the charm.
With three shots at the basket in the final 10 seconds, Kauai Bradley banked in the third attempt as the buzzer sounded on March 2 at Redbird Arena to give Marian Catholic a 48-47 victory over Rolling Meadows for the IHSA Class 4A state championship.
The Spartans (33-1) improved to 1-1 in title-game contests and avenged their lone blemish of the season.
Teniya Page topped Marian with 12 points in the title contest, while Ashton Millender chipped in 10 points and Megan Walsh added eight markers.
Spartan Coach Annie Burns has compiled a record of 216 wins and only 51 losses during her 8-year tenure at Marian Catholic.
Marian scored 12 points on turnovers to Rolling Meadows' 8, earned 9 fast break points to Rolling Meadows' 2, and scored 26 points in the paint to Rolling Meadows' 16. The score was tied 8 times, the lead changed 9 times, according to the IHSA.
Jenny Vliet put Rolling Meadows ahead at 47-46 with 25 seconds left in the 4th quarter.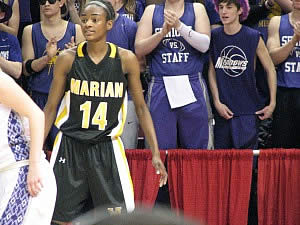 Marian's Kauai Bradley scored at the buzzer to give MC a 48-47 title-game win over Rolling Meadows. (PHOTO SUPPLIED)
At 17 seconds to go in the game, Marian's Teniya Page missed a jumper. After a team time out at 11 seconds, Teniya Page again put one up with 5 seconds remaining. Megan Walsh captured the rebound and shot with 1 second remaining. Like lightening, Spartan Kauai Bradley took the rebound, still with 1 second officially on the clock, and took the final shot of the game for the win and state title.
The official time noted for Bradley's winning shot is 00:00 at the IHSA's results page.
The Spartan girls captured the third IHSA state title in school history, joining football (1993 4A) and baseball (2012 3A).
Sources: Marianchs.com, IHSA