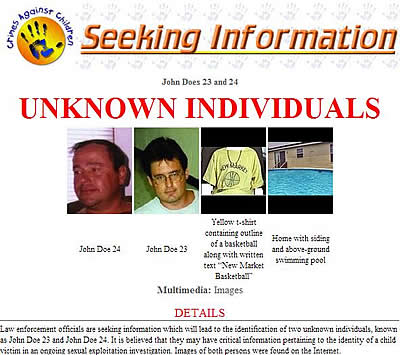 Click graphic for full FBI Wanted Poster. (Source: FBI)
Indianapolis, IN-(ENEWSPF)- Robert A. Jones, Special Agent in Charge of the Indianapolis Office, Federal Bureau of Investigation (FBI), is seeking the public's assistance with obtaining information to help identify two unknown individuals who may be able to provide valuable details regarding the identity of a child victim in an ongoing sexual exploitation investigation. Photographs and informational posters depicting the unknown individuals are being disseminated to the public and can also be found below:
Initial images of the child being photographed in sexually explicit positions were first recorded by the National Center for Missing & Exploited Children in February 2003 and are still being circulated in numerous child pornography forums across the Internet.
Clues gathered from images relevant to the case, including a yellow t-shirt containing the outline of a basketball along with the written text "New Market Basketball," have led to the belief that the individuals with whom the FBI would like to speak might possibly have a connection to one of the following facilities and/or areas:
New Market, Iowa
New Market Elementary School, Indiana
New Market Elementary School, Maryland
East New Market, Maryland
New Market, Virginia
New Market Sports Camp, Virginia
New Market Elementary School, Alabama
New Market Elementary School, Tennessee
New Market Township, Minnesota
New Market Township, Ohio
New Market, North Carolina
Also visible in some of the images is a home with what appears to be yellow siding and an above-ground swimming pool. If recognized, these items could also assist in providing valuable information leading to the demographic location of the abused child.
These individuals' identities and whereabouts are currently unknown. The first individual is described as a white male, likely between the ages of 25 and 35, with dark hair and glasses. The second individual is described as a white male, likely between the ages of 35 and 45, with dark hair. The FBI is seeking to find these individuals because it appears they have been in contact with the victim and can assist the FBI with identification efforts. The public is reminded that no charges have been filed in this case and the pictured individuals are presumed innocent unless and until proven guilty in a court of law.
Anyone with information to provide should contact their local FBI office, submit a tip online at https://tips.fbi.gov, or call the FBI's toll-free tip line at 1-800-CALL-FBI.
These individuals are being sought as part of the FBI's Operation Rescue Me and Endangered Child Alert Program (ECAP) initiatives, both of which represent strategic partnerships between the FBI and the National Center for Missing & Exploited Children. Operation Rescue Me focuses on using clues obtained through in-depth image analysis to identify the child victims depicted in child exploitation material, while ECAP seeks national and international media exposure of unknown adults (referred to as John/Jane Doe) who visibly display their faces and/or other distinguishing characteristics in association with child pornography images.