Commentary
By Gary Kopycinski
Park Forest, IL-(ENEWSPF)- Democrats should feel pretty good about what happened in the old GA06, or GA-06, Georgia's 6th congressional district. Democrat Jon Ossoff lost to Republican Karen Handel.
The race was highly touted on the left, right, and center. The race was the most expensive House campaign in United States history. A record $55 million was spent.
$55 million.
Can any of us in IL-02, the 2nd congressional district in Illinois, even fathom what such a campaign would look like here? IL-02 is a Democratic stronghold, well represented today by Robin Kelly (D–Matteson).
Even Jesse Jackson Jr., in his worst days, couldn't lose here.
Which brings us to Georgia's 6th.
Georgia's historically very-red 6th.
A long-time Republican stronghold.
Republican's have comfortably won in GA-06 by double digits — when they have faced an opponent.
Consider this:
For those celebrating/lamenting the Ossoff loss, witness the Trump effect after 5 months in office. pic.twitter.com/VCltVykY8Y

— John Fugelsang (@JohnFugelsang) June 21, 2017
John Fugelsang, actor, comedian, and broadcaster (Yes, I'm quoting an actor.) gives us some reference to the colossal margins by which Republicans have won in Georgia's 6th.
Won by 59 points in 2002.
Won by 45 points in 2006.
Won by 29 and 33 points in 2012 and 2014, respectively.
And won by 23 points in 2016.
Less than one year ago, the Republicans won by 23 points in Good Ol' GA-06.
Here's what that looked like just one year ago: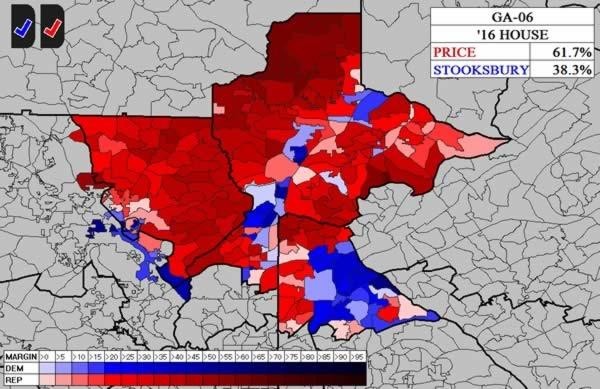 And, yesterday, the GOP saw the benefit of the "Trump Bounce," winning by a glorious (almost) 4 points.
Four glorious points.
Almost.
3.8 points, actually.
Karen Handel took 51.9% of the vote — just over half — and Jon Ossof took 48.1%.
The Dems fought hard for that seat. But so did the GOP.
Writing for The Nation, D.D. Guttenplan attempted to paint this election with one, big, liberal brush, lamenting that Jon Ossoff's loss should be a lesson to so-called "corporate Democrats."
Nonsense.
Democrats should be proud.
Both sides fought $55 million-hard for that seat.
And the special election came down to a nail-biting finish.
Democratic strategist Michael Kean has some thoughts on the matter.
"I'm really sick of all of the comments about what Ossoff's loss means and what Democrats should do now," Kean says. "We are 0-4 for special elections this year in districts that we had no business winning. A district that always goes Republican shouldn't be considered a catastrophic loss to Democrats."
What about the Trump factor?
"In a non-Trump era, this wouldn't have even been a contested election. A Democrat thinking he had a shot for the Montana congressional seat that has been Republican for 20 years should be laughable. Kansas should never have been even remotely in play. Yet, all of these elections were close. Yes Democrats eventually lost but Republicans shouldn't be reassured or get smug about winning elections in the single digits when they usually carry those seats by 20 points."
And Democrats?
"Democrats shouldn't feel that their message is off point because we lost a seat that we have always lost. If you want a test for Trump's policies, wait for an election in an actual swing district and see what happens.
"No Jon Ossoff was not the ideal progressive candidate but he was the ideal candidate for winning a congressional seat in a deeply conservative district, so stop questioning the national election strategy based on the outcome of one race."
Mr. Kean reflects on a popular HBO show, "In the first episode of The Newsroom, the main character says something like 'If Democrats are so right all the time then why do you lose so goddamn always.' Ridiculous litmus test arguments like this one after every election are exactly why Democrats lose 'so goddamn always.' Ossoff lost because he was a Democrat running in a Republican controlled district. End of story. We need to stop trying to make it more than that (both sides included, because any Republican who feels comforted about their healthcare bill after this election is clearly delusional)."
Agreed.
"Coming so close in an election that we lost by 20 points a year ago should terrify the Republicans, not us," Mr. Kean continues. "Second, Congressional elections are local elections. The representative goes to Congress and impacts the nation as a whole but the race is a local one. Ossoff was a center-left candidate because his district is at best center-right. A Bernie Sanders-esque candidate would have lost that election by 20 points instead of 5.
"So stop trying to learn lessons from these Congressional races. The lesson is that Trump being president pisses off enough moderate Republicans that districts that were previously landslide losses for Democrats are now close races.
The question we should be asking?
"What is going to happen in a district that has previously been a swing district," Mr. Kean says.
The Dems lost a local election yesterday, by 5 points only, in a deeply, deeply red district, in a red state.
Hats off to the Dems.
Who should really be concerned?
Gary Kopycinski is editor and publisher of eNews Park Forest. Follow him on Twitter at @GaryKopycinski and on Facebook at https://www.facebook.com/FrodoJRR, or email him at [email protected]. He served as a village trustee in Park Forest from 2003-2006, and then again from 2007-2015.