Old Plank Trail and Western Avenue in Park Forest. Is this the end of the trail? (Photo: Gary Kopycinski)
Commentary
By Gary Kopycinski
Is this the beginning or the end of Old Plank Trail?
I thought of that Sunday afternoon as I neared the end of an 11 mile bike ride, 5 miles through Park Forest, 6 along Old Plank Trail to Cicero Avenue and back.
As the sign says, heading east, this is the end of the bike route, point "R" on the Old Plank Trail map. The end of the line.
But does that always have to be the case? The trail actually continues east of Western Avenue, but what it was is long overgrown with weeds. It will take another village to breathe life into it: Chicago Heights.
We have long hoped that civic organizations in Chicago Heights would encourage city government, volunteers and others to extend the trail east.
Will someone in Chicago Heights take the lead? Please?
Click the map to see a larger version. (Source:
oprt.org)
I first learned the existence of the trail before I moved to the area in 1990. As I was packing my bags and preparing to move west 463 miles from my parent's front door in Pittsburgh, I had a chat with a friend, Fr. Lou Pascazi of the Diocese of Pittsburgh. Lou told me about these trails I should look for, former railroad lines, where the incline was no greater than 2% at any given point. He said they are perfect for jogging –which I was getting into at the time — as well as walking and biking.
I didn't find the trail until I moved to Park Forest. At the dedication of Logan Park some years back I received a whistle that sounded like a train. I finally put two and two together, realizing this was what Lou was talking about.
My bike ride this afternoon was wonderful. Took a few pics. You can view them here (only four made the final cut).
Here's some history on the trail from oprt.org:
The Old Plank Road Trail has seen lots of changes over the past 150 years. Before 1850 it was a major communication, trading and transportation corridor for Native Americans and the occasional missionary, fur trader, trapper, or explorer.

Since 1850 it's been an emigration route for European settlers looking for land to settle on. It's also a communication and transportation hub for our modern society. The OPRT area is a railroad corridor, the route of oil and gas pipelines, Chicago's link to the electric distribution grid, a crossroad of Interstate traffic, and the home of microwave, copper and fiber optic networks that link the nation with Internet, telephone and television services.

Now the trail is a recreation and nature preserve but there's plenty of evidence along the right-of-way of other and older uses. History pages 1 through 7 and the timeline [sic] will give you a better idea of what came before.
The trail is currently 21 miles long.
Will Chicago Heights help us make it 25 miles or more?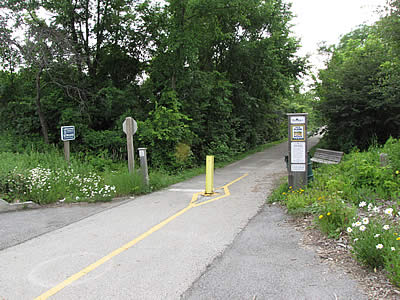 Point "R" on the Old Plank Trail map. Must this always be the end of the road? (Photo: Gary Kopycinski)