On this hill will rise a viewing platform for the Park Forest Rail Park. (Photo: Gary Kopycinski)
Commentary
By Gary Kopycinski
Took a tour of the Park Forest side of the Matteson station for the Matteson Electric Line. Village Manager Tom Mick was kind enough to do the honors.
And I can't wait for the Park Forest Rail Park to open.
At least that's what I'm calling it.
This is going to be so cool. And here is only one reason: I am told this park will be one of only two in the United States where railfans will be able to see a train turn under itself.
Way cool.
That's the only word that keeps coming to mind.
Cool.
Trains coming from the south turning west will turn under themselves. And rail enthusiasts will be able to watch from the platform that will rise above the hill south of the Metra parking lot.
There are other amenities at the station already. Our friends from Folks on Spokes may be interested in the new bike racks or bicycle lockers, installed last week. You can rent a locker at Park Forest Village Hall.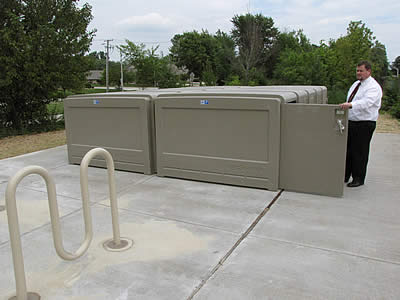 Village Manager Tom Mick inspects the new bike racks and lockers installed last week at the Matteson Metra lot in Park Forest. (Photo: Gary Kopycinski)
The bike racks and lockers will be a real plus especially after the bike lanes are in place on Orchard Drive.
Yes, Orchard Drive is scheduled to be gutted and re-engineered at last, starting in the spring of 2012. The new design will feature bike lanes from Lakewood Boulevard north almost to Lincoln Highway.
Check out these pictures of the area surrounding the station and fledgling park on Facebook (and remembe to "Like" our page while you're there!).
So, railfans, railway buffs, railway enthusiasts one and all, keep watch for this new rail park.
It's going to be super way cool.
Yes, the writer is a Trustee in Park Forest, and a fledgling rail enthusiast.