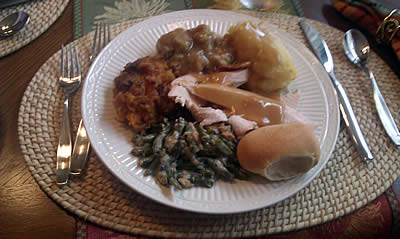 My plate minus the excellent cranberry sauce, courtesy Jim & Glenna Hennessy and Southland Caterers. (ENEWSPF)
Commentary
By Gary Kopycinski
I want to tell you that I had the most excellent Thanksgiving meal at the home of my friends Jim and Glenna Hennessy, a feast prepared by Southland Caterers.
And I really did.
Yes, Southland Caterers advertise on eNews Park Forest. But let me say this: I would not have been inspired to write this column at all if the meal had been anything less than fabulous.
Absolutely fabulous.
Here's the breakdown: turkey, green beans, sweat potatoes with pecans, mashed potatoes, stuffing, cranberry sauce, rolls and gravy. And pumpkin pie. All prepared by Southland Caterers.
Everything tasted perfect. Absolutely perfect.
I notice salt, sodium, right away. Years ago, because of then-high blood pressure, I stopped adding sodium to my food. So now I can detect it in a flash. Been to the Big Apple Pancake house on Western Avenue recently? If you go after 1 p.m., beware the soup, which may have evaporated some water throughout the morning, and you will taste the salt.
For me, "too much salt" is like biting into a big glob of PlayDough — if you recall doing that as a child. The taste assaults the palate and is truly repulsive.
Best analogy I have. Sometimes, soup at a restaurant reminds me of the times in my youth I rubbed my mouth after playing with PlayDough. Repulsive, saline, strong.
This dinner was perfect.
Everything tasted fine. There was no "assault" to the senses. The sodium used, the amount of salt, was unmarred.
The meal was delicious.
The turkey was moist. The gravy accented the taste of the turkey and the mashed potatoes. The sweet potatoes were wonderful. The green beans — and I'm now a fan of everything green — melted in my mouth. The chilled cranberry sauce played on the tongue while the turkey, moist and cooked perfectly, sliced easily with a knife and, my, tasted oh so good.
My only suggestion for Nick at Southland Caterers would be to try something else with the rolls. Mine was fine, but it wasn't the Pillsbury crescent rolls I recall from Mom's table. (Sorry, Nick. I tell my reviewers they must admit one fault, no matter what. Unfair, perhaps, but, hey, we're here for the public.)
Jim and Glenna warmed the pumpkin pie oh-so-slighltly in the oven, and it was perfect, topped with a generous gob of whipped cream. With a mug of brew from their Keurig coffee maker, I was a happy camper.
Looking for a Christmas or Hannukah feast?
Really, I recommend Southland Caterers.
And, yes, they're taking orders throughout the holidays, including orders for Christmas day.