UNIVERSITY PARK–(ENEWSPF)–October 13, 2016.  600 local artists have performed on the Center for Performing Arts stage, thanks to the generosity and vision of The Chicago Community Trust. Their tireless advocacy for artists and communities is benefiting the Southland region through enabling the presentation of high-quality, affordable performances. The Trust has once again recognized the work of GSU's Center with a generous philanthropic award.
Through this support, the Center for Performing Arts will introduce its audiences to three Chicago-based dance, theatre and musical national tour premieres. The goal of the series is to develop new audiences and serve communities who may not normally attend live performances. This year's selection of programs will inspire, provoke and entertain.
"The continued support of The Chicago Community Trust allows GSU to bring unique and exciting artists to the south suburbs, thus developing new audiences for Chicago theaters. We are so grateful that the Trust supports our efforts," said Governors State University President Elaine P. Maimon.
"Made in Chicago" fulfills the mission of Center for Performing Arts, which is to present the finest in world-class performing arts entertainment and education to area citizens at affordable prices. All performances are $28-38, with discounts available for seniors, students and groups of ten or more.
This series' upcoming presentations include:
Evil and Good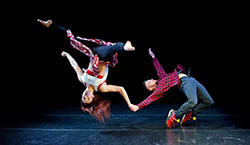 Presented by Chicago Dance Crash
Saturday, October 22 at 8 p.m.
By popular demand, Crash artistic director Jessica Deahr & Kaitlin Webster team up with Culture Shock
Chicago's Christopher Courtney in this national tour premiere inspired by the gray areas of our conscience. It's street dance with a message, delivered like only Crash can.
The Scottsboro Boys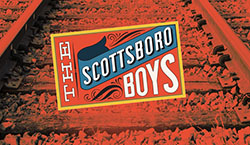 Presented by Porchlight Music Theatre
Saturday, March 25 at 8 p.m.
The thrilling, final collaboration by the creators of Cabaret and Chicago, The Scottsboro Boys has been hailed as one of the most visionary and controversial musicals to grace the stages of Broadway and London. Nominated for 12 Tony Awards, and presented in the style of the notorious "minstrel show," this is the true-life story of nine African American teenagers accused and put on trial in Memphis for a crime they did not commit. One of the most infamous events in our country's history, the story ignited the start of the modern civil rights movement.
The Monk Meets the First Lady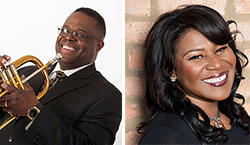 Presented by Orbert Davis Chicago Jazz Philharmonic, featuring Tammy McCann
Saturday, April 29 at 8 p.m.
Orbert Davis' CJP Chamber Ensemble celebrates the centennial birthdays of two of the jazz genre's most influential artists: Thelonious Monk and Ella Fitzgerald. While Ella's music has been a staple of Chicago Jazz Philharmonic performances, new arrangements of Thelonious Monk works will premiere under Orbert Davis' baton, blending jazz and classical genres. This performance will also mark a CJP debut for vocalist Tammy McCann, hailed by Howard Reich of the Chicago Tribune as "the next great voice coming out of Chicago."
For Tickets and Information
Online: CenterTickets.net
By Phone: 708-235-2222
In Person at the Box Office: 1 University Parkway, University Park, IL
Box Office Hours: Monday- Friday 10 a.m. to 4 p.m. (open to p.m. on Thursdays) & 2 hours prior to all performances
Groups of 10 or more, students, seniors and patrons who purchase a flex package of four or more shows are eligible for discounts.
Governors State University is located at 1 University Parkway, University Park, IL 60484. Conveniently located off of I57 (Sauk Trail exit), the Center for Performing Arts is easily accessible from all neighboring south suburban communities. Parking is free. For best GPS directions always use the location search term "Governors State University" only.
About The Chicago Community Trust
The Chicago Community Trust is a community foundation dedicated to improving our region through strategic grant making, civic engagement and inspiring philanthropy. We are here to serve the nonprofit organizations, the generous donors and the thoughtful residents who strive to make a difference, helping their bold vision create lasting community change. We work with a number of partnerships and initiatives to accomplish this work.
As businesses, local governments, and organizations strive to solve pressing challenges, the Trust brings these key actors together to spur necessary collaboration. Working together, connecting thoughtful donors with smart solutions, we leverage collective knowledge, creativity and resources for a greater impact than any of us can make alone. To learn more, please visit The Trust online at www.cct.org.
Source: http://govst.edu