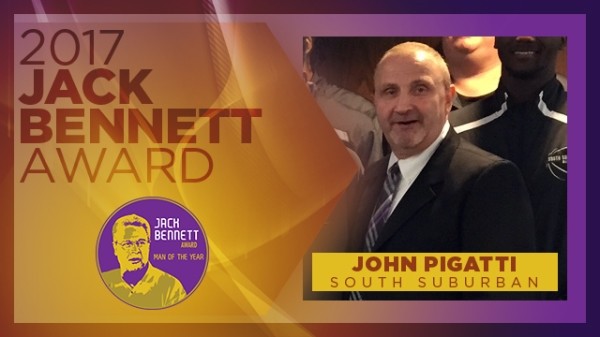 SOUTH HOLLAND, IL –(ENEWSPF)–April 17, 2017.  South Suburban College's John Pigatti is the recipient of the 2017 Jack Bennett Man of the Year Award.
Pigatti continues to excel at South Suburban College in Illinois. He led the program to the NJCAA Division II Final Four for the second consecutive season and was named the Illinois Basketball Coaches Association's Junior College Division II and Region IV-B Coach of the Year for the eighth time in 11 seasons at the school. Pigatti's squad finished the season with a 23-12 record. They have compiled a 313-55 mark during his tenure.
"All Coach Pigatti does is win and he does it the right way," said CollegeInsider.com's Angela Lento. "He should be a Division I head coach right now. The guy can coach."
Last season, he coached Jovan Mooring, who was named the NJCAA Division II Player of the Year.
The Jack Bennett Award, which represents winning with integrity, is named in honor of former head coach at the University of Wisconsin-Stevens Point.
Bennett won five Wisconsin Intercollegiate Athletic Conference titles, made five NCAA tournament appearances and won two national championships. He's the program's all-time winningest coach with a 200-56 record. In 34 seasons as head coach he compiled a record of 480-175.
For more information, contact Coach Pigatti at (708) 596-2000, ext. 2524. SSC is located at 15800 South State Street, South Holland, Illinois.
Source: http://ssc.edu