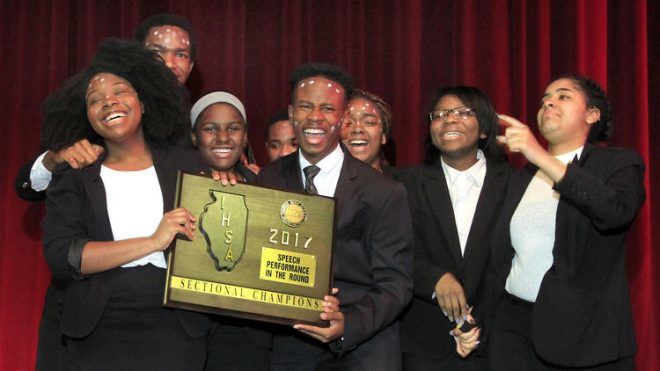 Will Compete in State Tournament February 17-18 in Peoria.
RICHTON PARK, ILL. –(ENEWSPF)–February 13, 2017—Southland College Prep Charter High School placed first in two events at  the IHSA South Suburban Speech Sectional tournament at Homewood-Flossmoor High School.
The school's nine-member Performance in the Round group, who staged the African folk tale, "Anansi, the Spider," placed first in the PIR event.  The piece was originated by the Ashanti people of present day Ghana and over the years spread through Africa.
Kapri Echols, a senior from Matteson, placed first in Poetry Reading with her reading of "Life According to Motown."
The PIR group and Echols will compete in the IHSA State Speech competition in Peoria on February 17 -18 which draws competitors from schools throughout the state of Illinois.
Performance in the Round cast members are: Angel Jackson, senior, Country Club Hills; Dejah Morris, junior, Richton Park; Indya Gettings, sophomore, Matteson; Kassidy Hayslett, junior, Matteson; Kene Ifuze, junior, Richton Park; Keylin Sharkey, sophomore, Richton Park; Lisa Owens, junior, Matteson; Terrance Mayfield, sophomore, Richton Park and Tobias Davis, sophomore, Park Forest.
Student directors are: Janell Alexander, sophomore, Matteson; Jayden Posley, sophomore, Matteson and TaKiyah Brown, senior, Richton Park.
Dr. Blondean Davis, Southland's CEO, noted, "These are tremendous accomplishments by members of this seven-year-old school that is making a name for itself as a formidable speech and forensics contender.
"We're equally pleased that Southland speech team members competed in eleven events in this Sectional meet—a significant tribute to the strength and depth of our team led by Cheryl Frazier, Director of Forensics and Theater and coaches Lauren Wells, Alesha Alexander, Darius Leaks and Sharon Wingba, " Dr. Davis said.
Source: http://www.pcipr.com