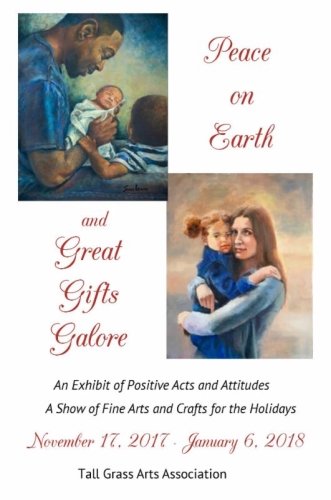 Park Forest, IL—(ENEWSPF)—November 5, 2017. Tall Grass Arts Association, 367 Artists Walk, in DownTown Park Forest will celebrate the 2017 holiday season with two simultaneous exhibits.
The two exhibits, 'Great Gifts Galore' and 'Peace on Earth' will offer artists' fine art, craft items and art work interpreting the spirit of the holidays.  The exhibits will open on Friday, November 17 and run through Saturday, January 6.  A reception will be held for the artists and visitors to the show on Saturday, November 18 from 1 p.m. to 3 p.m. Both the exhibits and reception are free and open to the public.
The 'Peace on Earth' exhibit will present works that symbolize or portray positive moments, acts and attitudes that illustrate kindness, empathy, respect- people helping others, caring about each other, reaching across barriers  to accept and appreciate others.
'Peace on Earth' will include drawings, paintings, collages, mixed media pieces, prints, photographs, digital images, fiber pieces, glass and relief from sculptures from the thirty-one participating artists. These works will uplift and remind visitors of the best reasons to celebrate the holiday season.
Artists exhibiting works in 'Peace on Earth' are: Marjorie Anderson, Marcia Babler, Richard Benoit, Darcy Berg, Terry Boykin, Susan Brauer, Carole Brejcha, Barbara Eberhard, June Finnegan, Anitra Frazier, Linda Haynes, Fran Hollander, Nikkole Huss, Pat Coffman Huss, Robert Johnson, Jean Lewis, Elaine Martin, Paula Mattson, Jennifer Meyer, Chuck Michaels, Patricia Moore, Sandy Newell, Renee Klyczek Nordstrom, Ginny Raftery, John Ray, Richard Schmidt, Charles Sizemore, Patrick Thompson, Mary Ann Trzyna, Patricia Wiseman, and Marikay Peter Witlock.
'Great Gifts Galore' will feature an extensive offering of artists' reasonable-priced, high-quality, original fine art and crafts items for sale.
'Great Gifts Galore' features works by: Darcy Berg, Ellen Granier Bevill, Jill DeBardelaben, Pam Eberlin, Ray Luckhaupt, Barb Mason, Robbie Robinson, Flynn Sochon, Gail Stamps and Susan Wade.
In addition to the exhibits, the Tall Grass Gift Shop provides another great source for a wide range of one-of-a-kind, affordable gift items, such as notecards, paintings, photographs, mobiles, sculptures and books.
Gallery Hours are 11 a.m. to 4 p.m. on Tuesday through Saturday. The Gallery is closed on Sunday and Monday.
For additional information, call 708-748-3377 or visit www.tallgrassarts.org.
Source: www.tallgrassarts.org