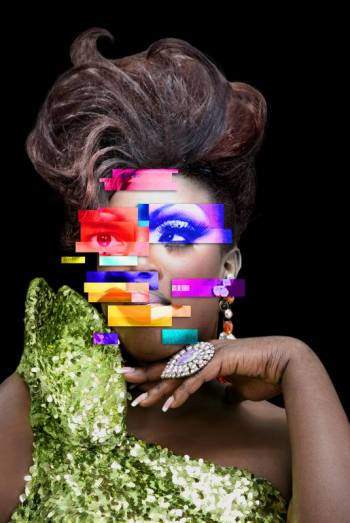 The Theatre School at DePaul University will present Tarell Alvin McCraney's "Wig Out!" with director Nathan Singh. (Image by Grip Design)
CHICAGO —(ENEWSPF)–March 31, 2017.  The Theatre School at DePaul University will present Tarell Alvin McCraney's "Wig Out!" with director Nathan Singh on the Fullerton Stage, 2350 N. Racine Ave. The production opens April 14 and runs through April 23. Performances are Wednesdays through Saturdays at 7:30 p.m. and Sundays at 2 p.m. Previews are April 12 and 13 at 7:30 p.m.
"Wig Out!" welcomes audience members to the underground drag scene, a place where many gay men create families for themselves. The legendary House of Lights is one such family. As they prepare for a competitive ball with a rival house, each member confronts their identity within the family. "Wig Out!" is an electrifying tale of community, queer sub-culture and sexuality by The Theatre School alumnus McCraney. This play is recommended for mature audiences.
The cast features Sola Thompson (Fay), Tia Jemison (Fate), Kayla Forde (Faith), Matthew Elam (Wilson/Nina), Isaiah Rush (Eric), Michael Morrow (Rey-Rey), Skylar Okerstrom-Lang (Loki), Michael Cohen (Lucien), Vincent Banks (Venus), Keith Illidge (Deity) and Nick Trengove (Serena).
The production team includes Nathan Singh (director), Lila Gilbert (technical director), Maggie Armendariz (scenic designer), Hailey Rakowiecki (costume designer), Emmaleigh Pepe-Winshell (lighting designer), Connor Ciesel (sound designer), Trisha Mahoney (dramaturg) and Ben Gates-Utter (stage manager).
Singh is a third year MFA student at The Theatre School at DePaul University, where he recently directed "The Children's Hour," "Next Fall," "The Great God Pan," "Women" and "In The Blood." His previous work includes theatre, opera and site-specific performance. Singh has worked at various theatres around Los Angeles, including: East West Players, Playwrights' Arena, The Theatre at Boston Court and Son of Semele. He directed the opera "America Tropical" for the Autry National Center and University of Southern California Vision and Voices.
Singh also directed "A Shipwreck Opera" for the Definiens Project and USC Spectrum. He spent two seasons at the Oregon Shakespeare Festival serving as the FAIR assistant director on "Willful" in 2011 and "The Tenth Muse" in 2013. Last fall he was the assistant director on "Electra" at The Court Theatre. He is a graduate of the USC School of Dramatic Arts. Singh is a recipient of the 2016 SDCF Sir John Gielgud fellowship in Directing.
For patrons who are blind or have low vision, the 2 p.m. performance April 23 will include audio description services, as well as a pre-performance touch tour. Call the box office at 312-922-1999 for more information. The performance on April 23 will be interpreted in American Sign Language. Call TTY: 773-325-7975.
April 19 is USO of Illinois Night. U.S. Armed Forces personnel and their families may attend the performance for free. Visit www.tixfortroops.org to reserve tickets, or call the box office for more information. Additional special events include an opening night reception following the performance on April 14, and post-show discussions on April 15 and 20.
Tickets are $15, preview tickets are $10, and student tickets are $5. All tickets are reserved seating. Subscriptions and group rates for six or more people are available. Tickets are available by calling the box office or visiting http://theatre.depaul.edu.
The Theatre School at DePaul University is located at 2350 N. Racine Ave. The school is easily accessible via the Fullerton CTA Station and the Fullerton 74 bus. Visitors and audience members can park in DePaul University's Clifton Parking Deck, located at 2330 N. Clifton Ave.
Source: http://depaul.edu