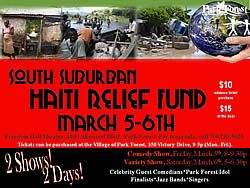 Park Forest, IL.–(ENEWSPF)– Leaders in the southern suburbs are coming together to raise money for Haiti following a devastating earthquake that claimed thousands last month.
A South Suburban Haiti Relief Fund Event will take place March 5th and 6th at Freedom Hall Theatre, 410 Lakewood Blvd., in Park Forest. The two-day fundraising event will feature a comedy show on Friday, March 5th at 8 p.m. and a variety show on Saturday, March 6th at 5 p.m. Both shows are expected to last an hour and a half.
Celebrity performers featured on BET's Comic View and HBO's Bad Boys of Comedy have confirmed for the comedy show portion of the event.
Top talent from last month's Park Forest Idol competition will perform at the variety show, with area jazz bands and professional vocalists also added to the bill.
Tickets can be purchased in advance for $10 by visiting Village Hall in Park Forest, 350 Victory Drive. Tickets purchased on the day of the event will be $15. General donations will also be accepted.
Organizers hope to raise $5,000 toward relief efforts.
Last month, President Obama tapped former presidents George W. Bush and Bill Clinton to head the U.S.'s humanitarian and relief efforts in Haiti. Since then, Bush and Clinton have urged the public to donate money to the region instead of items like shoes, clothes and baby formula.
Haiti's recovery is expected to be a lengthy one that could take several years.
Though many dollars have been raised through various efforts nationwide, many more donations are still needed.
For questions about the South Suburban Haiti Relief Fund, call 708.283.5621.
Source: VOPF