(PHOTO SUPPLIED)
Chicago, IL-(ENEWSPF)- A relentless snowfall that covered the Chicago area Thursday could not deter one couple from becoming Cook County's first to get married in 2014. Ricca Rivera and Fernando Chaidez had to push their snow-covered car out of their parking spot in Chicago's North Park neighborhood to make their way to Cook County Clerk David Orr's downtown office in time to win the first spot in line for marriage licenses. 
The couple arrived at 6:15 a.m. to the Clerk's Vital Records office in the lower level of the Daley Center and found themselves the first in line. "We didn't think when we'd come down this morning that we'd be the first in line," Ricca said. "We just decided to give it a shot, and if we someone else was ahead of us we'd go to breakfast and come back later."
They received their marriage license as soon as the Clerk's office opened at 8:30 a.m., and Clerk Orr, continuing a tradition of his dating back to 1991, married them about an hour later in a ceremony in his office.
A judge waived the 24-hour waiting period so Orr could marry them immediately. He is the only clerk in Illinois with the ability to perform marriages.
A video of the ceremony follows:
A photo album of the event can be viewed on the Clerk's website.
Fernando, 42, who does machine maintenance, and Ricca, 40, who works in the city of Chicago's Department of Family and Support Services, are planning a February church ceremony in Chicago, reception in  suburban Cook County, and honeymoon in Puerto Rico. Since they both had the day off from workThursday, they decided to get their license, which is good for 60 days. After Ricca's mother reminded them of the special recognition, not to mention the great prize package donated by local businesses, the couple set their alarm clocks for 4:30 a.m. to try to get 2014's first marriage license.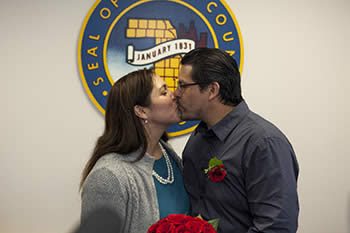 Ricca Rivera and Fernando Chaidez. (PHOTO SUPPLIED)
This year's prizes include a weekend stay at the Palmer House Hilton Hotel in downtown Chicago; two tickets to the show "Rock of Ages" from Broadway in Chicago, a $150 gift card to Shaw's Crabhouse from Lettuce Entertain You restaurants, and a beautiful red rose bouquet and boutonniere fromLaSalle Flowers.
Orr also paid the couple's marriage license fee of $60 and provided them with a colorfulCommemorative Certificate.
The couple met at a Halloween party in 2009, where Fernando caught Ricca's eye with his dancing. "He did 'the snake,' and it made me laugh," she said. "I just thought he was so cute, and so funny."
Fernando says his breakdancing days may be over, but when the two are joined by family and friends to celebrate their nuptials next month, "there will be dancing."
The Clerk's Bureau of Vital Records issues all marriage licenses in Chicago and suburban Cook County. The office issued: 31,016 marriage licenses in 2013; 32,292 in 2012; 32,191 in 2011; and 32,289 in 2010. The office also issued 907 civil union licenses in 2013, and 1,213 civil union licenses in 2012, the first full year civil unions were legal in Illinois.