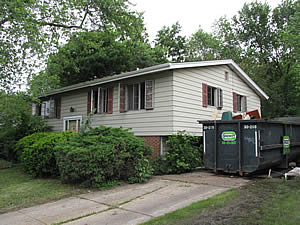 This home in the 500 block of Homan Ave. had 24 living cats when police discovered it. Windows are now open to aire the stench. (Photo: Gary Kopycinski)
Park Forest, IL-(ENEWSPF)- Park Forest Police and Fire discovered more than they could stand last week when called to a residence in the 500 block of Homan Street last week. Police discovered cats, 24 in all, living in a home smelling so terribly bad of urine that firefighters had to request a smoke extractor unit before they could enter.
Police additionally discovered one deceased adult cat and one deceased kitten.
Police say the foyer of the residence was covered with approximately 3 inches of feces. The stairs and first level of the residence were also covered in feces. Police say every inch of the first level was covered in cat urine and cat food. Some rooms were closed off and others were filled with boxes.
The downstairs of the tri-level home was also completely covered in cat urine.
Police said the smell of cat urine was so strong that the Park Forest Fire Department requested a smoke extractor be placed by the front door so that entry could be gained. Police say the entire residence was deemed unsuitable for human habitation. Police say the cats appeared to be relatively tame but their bodies were scrawny with areas of fur falling off their skin. They were also severely infested with fleas.
Chester A. Mall, 57, 815 Bridge St., Lynwood, was arrested on June 2 and charged with misdemeanor cruelty to animals and owner's duties after police were contacted by Community Service Officer Jachymiak regarding a sick/injured animal complaint in the 500 block of Homan Street.