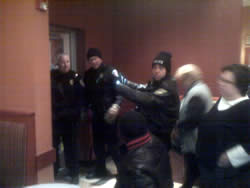 Matteson, IL–(ENEWSPF)– Matteson police are working an armed robbery at the Sprint Store, 4858 211th Street Matteson Center, Matteson, IL. The Panera Bread next to the Sprint Store was in lockdown, which is where this writer was at the time of the incident.
Police were outside with shotguns and shields. The alleged perpetrator was believed to be in the Sprint Store armed.
According to police at the time of the incident, employees and customers were being held hosgage. There was no confirmation on the number of people being held in the Sprint store.
Police entered Panera at approximately 8:15 p.m. and permitted people parked on the south side of the building to leave the store.
"Panera has been very good to us. We're having dessert, free coffee, taking very good care of us, keeping spirits high," said Sharon Penrod of Bourbonaiss, IL.
The South Suburban Emergency Response Team was called in to assist, including officers from Park Forest.
"I'd like to get on with the rest of my evening," said one customer.
Police permitted patrons to leave Panera at 8:39 p.m. when it was discovered that the armed gunman was not in the Sprint Store.
This is a breaking news story. More to follow.
Related: Gunman Eludes Police at Matteson Hostage Situation