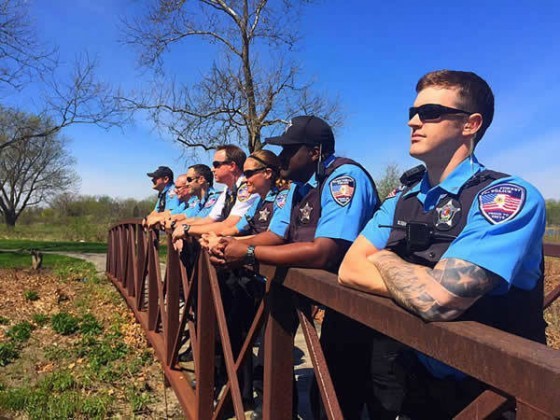 Park Forest, IL-(ENEWSPF)- Park Forest police safely took into custody Saturday a woman yelling and reportedly jumping in front of vehicles at the intersection of Sauk Trail and Lakewood Boulevard. The incident happened around 5:00 a.m. on August 5, 2017.
Police also warned members of the public about the risks of inserting themselves into a police incident.
According to police, officers were dispatched to the intersection of Sauk Trail at Lakewood Blvd. for the report of a woman jumping in front of vehicles. Responding officers observed the woman, a 27-year-old Park Forest resident, allegedly holding an object believed to be a large knife, which she was waving around while repeatedly yelling, "I will not be moved," according to police. She was obstructing traffic, police said.
Despite repeated orders to drop the knife by multiple officers, including an officer speaking over an in-car megaphone, the woman continued to stand in the roadway, ignoring all commands, while continuing to yell, "I will not be moved," according to police.
At one point, the woman approached a van and repeatedly stabbed the closed driver's side window, according to police.
The occupant was unharmed.
Multiple attempts to use a Taser were initially unsuccessful.
Finally, officers were able to use a combination of a Taser deployment with the use of a shield to subdue her and take her into custody. The entire time she was being taken into custody, she continued to resist and yell the same refrain of, "I will not be moved," according to police. The object in her hand was at that time determined to be a large barbecue fork.
The woman was transported to the hospital for evaluation, and it appeared, at that time, she did not suffer any physical injuries during her arrest. "The cause of her behavior is unknown at this time," police said, "and a decision on whether to pursue criminal charges is pending the outcome of her medical evaluation."
Of the responding Park Forest Police Officers, three were certified in Crisis Intervention Team training, and all of the responding officers had received edged-weapon defense training in May of this year, police said.
"As this incident occurred on a major thoroughfare, there were numerous people who stopped to observe this incident unfold," police said, "some of whom recorded the incident on cell phones or who attempted to become involved in the situation."
"We respect the public's right to both witness and record a police-involved incident," police continued in a statement. "However, the public positioning themselves too close to someone exhibiting dangerous behavior only heightens the risks during the incident and could create a situation where officers are forced to use deadly force to protect them. Whether well or ill-intentioned, we would remind the public to never insert themselves into such a dynamic and dangerous situation."
Two adult family members were taken into custody because they allegedly obstructed officers and then resisted arrest after the woman had already been subdued, according to police.
"Finally, we would like to thank our partners in the Richton Park Police Department, Olympia Fields Police Department, Matteson Police Department, and Chicago Heights Police Department who responded to assist with the successful conclusion of this incident," police said.