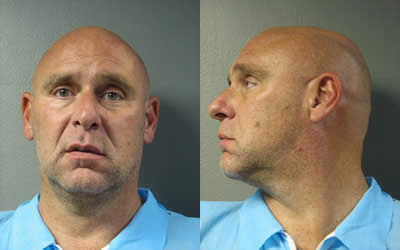 Kenneth Arron. (PHOTO: PFPD)
Park Forest, IL–(ENEWSPF)– One might say it all started to unravel with a hot dog.
On August 19, a woman purchased a hot dog at the Holiday Star Theater. According to a report of the incident received by eNews Park Forest, she paid with a credit card. Staff apologized after discovering there were no hot dogs left. She asked for a refund, and the encounter she subsequently had with Kenneth Arron led her to call police.
Police began their investigation of this incident and alerted Commander Paul Winfrey of apparent discrepancies relating to the identity of the individual known at the time as Kenny Yochelson, the owner of the Holiday Star Theater. According to police, Cmdr. Winfrey could find no information for a subject named "Kenneth Yochelson" through any database or law enforcement tool, other than through the Secretary of State's Office where Kenneth Yochelson was listed as the Agent for the Holiday Star Theater. The vehicle that Yochelson drove was checked. A title search of the vehicle showed that the vehicle is registered to Holiday Star Theater at the address of 1058 Jeffrey Ct, Lombard, IL. A database search of this address showed that the elderly residents' last name is "Arron." Police say led to the discovery that Kenny Yochelson was, in fact, Kenneth W. Arron.
Police say a background check of Kenneth W. Arron revealed that he has an extensive criminal history, including felony convictions in Illinois, Arizona, and Ohio. Police say he was discharged from the Illinois Department of Corrections in July, 2007. He has used the names C.W. Roberts, David Yochelson, Patrice Bombs, Kenneth Aaron, Pete Thomas, and Aaron Meyer Lansky, according to police.
Cmdr. Winfrey obtained a photocopy of the business license application that was filed for the theater. The application, dated February 26, 2010, lists Kenneth Yochelson as the "Business Operator" and Danielle Smiley as the Business Owner, according to police. The application is signed "Kenneth Yochelson."
Cmdr. Winfrey also received a copy of the application for water service filed with the Village of Park Forest for the Holiday Star Theater. The application lists the contact telephone number as Yochelson's cell phone, and is signed "Kenny Yochelson," police say. In the blank listed as "Position," the word "Owner" was written, police say.
Cmdr. Winfrey spoke to Park Forest Village Manager Thomas Mick. Mr. Mick stated that the Village Administration would not have issued a business license to the Holiday Star Theater if Arron's identity and criminal history were known. In addition, Mr. Mick stated that if Arron's identity and criminal history were known, the Village of Park Forest would not have allowed Arron to run the business pending approval of the business license.
Police say records showed that the Holiday Star Theater was being run by an Illinois Corporation named "The Holiday Star Theater Corporation." A search of online Illinois Secretary of State Records listed Kenny Yochelson as the agent for that corporation. Cmdr. Winfrey requested and received copies of the articles of incorporation that were filed with the Secretary of State in order to incorporate. The incorporation papers, filed May 12, 2010, list "Kenny A. Yochelson" as the initial registered agent, and the application is signed Ken Yochelson, according to police.
On August 24, Cmdr. Winfrey met with Terri Cox and Robert Matanky of Matanky Realty Group at their office in Chicago. Police say Matanky and Cox said they were unaware that the subject they knew as Kenneth Yochelson was actually Kenneth Arron. Matanky stated that Arron was originally hired in to be the Manager of the theater. Arron had allegedly told them that he had worked extensively with Disney Studios and Universal Studios and had significant contacts in the movie industry. After meeting with Matanky, Arron was brought in as the primary leaseholder of the theater business, with George Smiley listed as a guarantor. Arron (as Yochelson) signed a lease agreement which provides a salary of $40,000 per year to be paid to Arron, in addition to Arron receiving 90% of the net profits from the theater, while Matanky receives 10%.
Matanky and Cox stated that Arron works at the theater every day for at least eight hours, and he has been drawing a salary from the monies allotted in the lease, in addition to keeping profits from the theater. Police say Robert Matanky stated that he and his company had suffered no financial loss since Arron signed the lease, and Matanky was therefore unconcerned about the use of a fictitious name and fraud committed against Matanky Realty and/or the Village of Park Forest.
eNews Park Forest has learned that Robert Matanky has since called Village Manager Tom Mick and apologized.
After checking the Web site for the Holiday Star Theater, Winfrey discovered an article regarding a "trip giveaway" raffle in which a trip for two to Grand Forks, WA was raffled. In order to obtain a raffle ticket, contestants were to bring canned goods to the Holiday Star Theater, police said. Every two canned goods donated gave the contestant a raffle ticket, police said. The trip was to be awarded on June 29, 2010. Police say the trip was not awarded on that date.
Another post on the website stated that the raffle giveaway had been postponed and that it would be awarded in "mid August," according to police. The reason given for postponing the drawing was to collect more food items for the Food Pantry, police say. Police say that as of September 13, the trip had still not been awarded, despite canned goods being tendered and raffle tickets being dispersed. Cmdr. Winfrey contacted the Rich Township Food Pantry on August 26 and learned that that the pantry had made several pickups of canned goods from the Holiday Star Theater in July and August, although the specific dates were not recorded, according to police.
Police say they also discovered on the Holiday Star Theater Web site a solicitation for applications for a scholarship program. The site stated that "Five (5) scholarships in the amount of $2,500 each will be awarded in June for the fall 2010 semester," according to police. The submission requirements were listed and an on-line application was still available, according to police. Police say Cmdr. Winfrey sent email requests through the Web site to learn if any scholarships had been awarded but received no response.
Police say that on September 13 at approximately 11:05 a.m., Cmdr. Winfrey observed Arron driving his vehicle, traveling southbound on Cunningham from Lakewood Boulevard. Cmdr. Winfrey performed a traffic stop on Arron's vehicle and Arron pulled into the driveway/parking space in front of the Holiday Star Theater. Police say Arron immediately exited his vehicle and approached Cmdr. Winfrey, provided an Illinois State ID card, with the name Kenneth Arron, and allegedly told Cmdr. Winfrey that he did not have a license.
Arron was placed under arrest, handcuffed, and placed in the rear seat of Cmdr. Winfrey's police car. Coy's Towing was called to remove Arron's vehicle per departmental policy.
Inside the vehicle police found small dog inside a carrier. Per Arron's request, the dog, carrier, and a duffle bag containing dog supplies (food, bowls, and medication), were turned over to a male employee of the theater.
Police say they also discovered a soft-sided briefcase inside the vehicle. Police say the briefcase was open and contained an Apple I-Pad computer and two forms from the Illinois Department of Employment Security (IDES). The forms had the name Kenneth W. Arron printed on them, according to police.
September 13, Cmdr. Winfrey interviewed Arron at the Park Forest Police Department. Police say Arron was advised of his Miranda Warnings, "which he knowingly, intelligently, and voluntarily waived (in writing)." Police say he told them that he was a "professional" when it came to being interrogated, and he was very aware of his rights. Police say he stated that he did not want an attorney present and would speak to Cmdr. Winfrey, but he would not write anything down.
Arron was first questioned about the use of the name Kenny Yochelson. Police say he told them "Yochelson" was a family name that had been dropped generations ago, but he wanted to use. Police say he told them that he used the name Kenny Yochelson in all of his dealings with the Matanky Group, with George Smiley, and with the Village of Park Forest, because he knew that if he used the name Kenneth Arron, he would not be issued a business license from the village, and Matanky and Smiley would not enter into agreements with him.
Police say Arron admitted that he completed and signed both the Park Forest Business License Application and the State of Illinois articles of incorporation using the name of Kenny Yochelson, and that he tendered them to the appropriate persons.
When questioned about the raffle of the trip, police say Arron became upset. He allegedly admitted that approximately fifty people had donated canned goods, and stated that he had taken photographs of the canned goods prior to the Rich Township Food Pantry picking up the items. Police say at first he stated that he had problems getting the final "Twilight" film to be shown in his theater, and that had caused the delay in awarding the trip. Police say he then stated that he had not received enough tickets from which to draw a winner. Police say Arron stated that he had not purchased any of the materials or items related to the raffle as specified in the advertisement online (rental car vouchers, hotel accommodation vouchers, gift certificates, autographed pictures, etc).
When questioned about the scholarships, Arron allegedly stated that they had never been awarded. Police say he first stated that there had only been three applicants, and then allegedly stated that there had been more applicants, but none of them met the qualifications. Police say Arron admitted that he never awarded the scholarships and did not have the financial resources to fund them. He then allegedly told police stated that if it would avoid prosecution, he would award the scholarships "within 60 days."
During the interview, police say Arron noticed two documents that were in the group of papers that Cmdr. Winfrey was holding, the forms from the Department of Unemployment Security that Cmdr. Winfrey had removed from Arron's property. Police say Arron spontaneously stated, "What are you doing with those? Those are my unemployment forms…I need to mail those in." Cmdr. Winfrey asked Arron how he was receiving unemployment when he was working at and running the theater, but police say Arron refused to speak about the issue, and interview ended at approximately 4:45 p.m.
Later that evening, Cmdr. Winfrey was advised that Arron had attempted to use his shirt to hang himself from the bunk in his cell. Per departmental protocol, Arron was placed in a body suit that would tear if it was used to attempt to hang.
On September 14, Cmdr. Winfrey spoke to George Smiley via telephone. Smiley told Winfrey that he knew Arron only as Kenny Yochelson. Arron had convinced Smiley that he (Arron) had extensive media and movie-studio connections and was experienced at running movie theaters, police say. Smiley was indebted to Matanky realty and saw Arron (as Yochelson) as a means to make the theater profitable and reduce his financial responsibility. Smiley stated that he was very upset by the knowledge of Arron's alleged fraudulent activity.
On September 15, Cmdr. Winfrey received correspondence from IDES after filing a formal request. Police say this correspondence showed that Arron had been receiving Unemployment benefits since at least January 2009. Police say that during the time frame that Arron was known to be earning money and working at the Holiday Star Theater, February 26, 2010 through September 13, 2010, Arron received a total of 9,812.00 in unemployment compensation, paid in biweekly installments. Police say that also in this correspondence were copies of "IDES TCS Certification Details," forms which are generated each time that Arron allegedly certified to IDES that he was unemployed, had no income, was seeking employment, and was able to work.
Police say these certifications were filed thirteen times from February 26 through September 13, indicating that Arron had allegedly provided false information regarding his employment and financial status during that time frame.
Kenneth W. Arron, 48, 1058 Jeffrey Ct, Lombard, IL, was charged with one count of State benefits fraud, a Class 3 felony, and one count of forgery related to the alleged fraudulent business license application, also a Class 3 felony. In addition, Arron was charged with conducting an unlicensed raffle, driving while license was suspended, and operation of an uninsured motor vehicle.
Related: