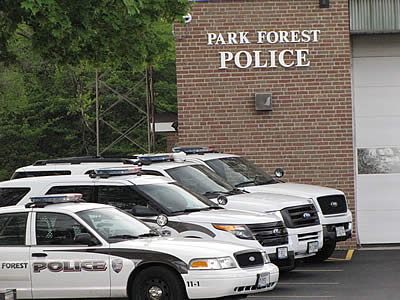 Park Forest, IL-(ENEWSPF)- Park Forest Police released a statement last week relating to the shooting death of a teenager on Thanksgiving. In the statement, police stated that investigators did not find evidence that the tragedy was "random." In comments on social media, a few questioned how the police knew the shooting was "random," and expressed some concern over what "random" meant exactly.
Police responded to these concerns in a social media post, beginning with the admission that such a post is "difficult to create" given the gravity of the previous statement alerting the public to the death of the young man.
"It is difficult to create a social media post following the notification to the community that one of our young men was tragically killed," police said in the statement. "Perhaps one of our followers summed it up best when she wrote: 'Pray for his family……somewhere this morning, in our community, a mother woke up to the nightmare that is now the rest of her life, her child is gone. Regardless of the situation…..a young life has been lost to senseless violence.'"
The statement continued (emphasis added):
We always try to share as much information as we are able, but are limited by the nature of the on-going investigation and the refusal to share anything which may compromise bringing those responsible to justice.
From an investigative standpoint, the term "random" means without known cause or nexus to the offender.
Police emphasized the critical nature of the crime:
"The fact that we are saying that this incident was not random does not negate the seriousness of this incident or the impact on our community, nor does it indicate culpability of the victim. We would also strongly caution against speculation, to include suggesting gang involvement of the victim. Speculation of that sort only serves to add additional insult to an already painful incident."
"The most appropriate reaction to a tragic incident like this is to offer condolences to those who lost a loved one," police continued.
The statement concluded, "Members of the Park Forest Police Department and South Suburban Major Crimes Task Force are diligently working on this very active investigation. We would continue to urge those with information to reach out to the Investigations Division at (708) 748-1309. In the meantime, our patrol personnel continue to patrol the streets of Park Forest to help keep our community safe."
Again, in summary, "From an investigative standpoint, the term "random" means without known cause or nexus to the offender," police said.
We at eNews Park Forest join with the rest of the community in offering condolences to the family, friends, and loved ones of Mr. Kiante Albert.
Related: Teen Driving In Park Forest Shot And Killed Thursday