Washington, DC–(ENEWSPF)–March 21, 2013. In commentary released by Beyond Pesticides in the current issue of its newsmagazine Pesticides and You, executive director Jay Feldman says, "EPA's handling of the honey bee crisis is outrageous and instructive." In the piece, Mr. Feldman maintains that the current crisis tells us that the only way out of the pesticide-induced environmental and public health crisis is an organic food production system. As we move toward this goal, Beyond Pesticides says that we must compel the U.S. Environmental Protection Agency to act against deadly chemicals because the degradation of honey bee health and the widespread collapse of managed and wild bee colonies is not sustainable for the nation's food production system."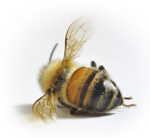 The following is reprinted from the piece by Mr. Feldman:
I spent the day recently with commercial beekeepers, visiting the U.S. Department of Agriculture and Congressional offices to talk about the honey bee crisis. Their message: (i) unprecedented numbers of bee colonies are dying, leaving the ability to pollinate the nation's food crops uncertain, and (ii) EPA must restrict neonicotinoid pesticides –the insecticides used to treat seeds that are distributed systemically through the vascular system of plant, expressing themselves indiscriminately through pollen, nectar, and guttation drops and poisoning the bees, devastating bees as they pollinate or forage. We have petitioned EPA to suspend the chemical's use.
The day after those visits, EPA's Office of Pesticide Programs, with USDA, hosted an all-day industry "Pesticide Summit" at its headquarters. Three panels were assembled on (i) mitigating risks of chemical-laden dust coming off of automated vacuum seed planters, (ii) seed treatment and coatings, and (iii) best management practices and communication. The panels were led by Bayer, Syngenta, and Monsanto, respectively, and panelists were drawn from industry and an industry-supported group, with the exception of a USDA researcher, and a commercial beekeeper.
EPA Focuses on Dust Instead of Poisonous Plants
"Fugitive dust" contaminated with deadly pesticides from seed planters that stretch across 24 crop rows invades the landscape exposing bees. However, EPA and industry's focus on risk mitigation measures, such as new seed coatings and lubricants (also not tested for hazards to the environment) to reduce dust, does not eliminate central systemic hazard posed by the chemicals. Talc or graphite are currently used in planters to keep the sticky treated seeds from getting stuck in the planter. The equipment industry does not use filters and collection devices to capture contaminated dust because it would create a disposal problem, it says. The effect of inoculating every corn, canola, and soybean plant with deadly chemical that creates fields of poisons throughout the nation is not, in EPA's view, a concern. The one field study EPA required under a "conditional" registration in 2003 came back as inadequate four years later after EPA allowed over 90% of corn seed In the U.S. to be treated. Some European countries have issued bans and the EU is considering a wider ban, because it relies on a more precautionary approach to the question in an effort to try to protect bees before the bee crisis worsens.
Organic Solution
EPA's approach reinforces the urgent need for a national transition to organic. The takeaway for organic, as it grows beyond its current $30 billion market share, is the need for rigorous science-based decision making that requires precaution on the allowance of chemical products in the face of hazards and scientific uncertainty. The Organic Foods Production Act provides the framework for doing this with the independent stakeholder National Organic Standards Board (NOSB) of environmentalists, farmers, consumers and public input providing oversight on allowable synthetic materials in organic and policies that govern organic systems. We must keep in mind the underlying standards of the organic rule, which require that practices "maintain or improve soil organic matter content in a manner that does not contribute to contamination of crops, soil, or water by plant nutrients, pathogenic organisms, heavy metals, or residues of prohibited substances."
The Path Forward
The summit started with an industry-supported panelist who said that organic is not the answer and environmentalists cannot talk to farmers. In fact, organic is the key to stopping the relentless poisoning and contamination of the bees and other beneficial organisms. And, farmers, environmentalists, and consumers need to sit down together, as they do on the NOSB, to create a path forward and take the reins away from toxic chemical regulators who in tandem with chemical companies have put us on a collision course with nature and the health of future generations.
A Call for EPA Action
As we move toward the organic goal, EPA must suspend the use of two neonicotinoid pesticides –clothianidin and thiamethoxam, those most closely tied to honey bee decline because of their toxicity to bees and almost universal use in the seeds of corn, and at least half of all soybeans. Honey bees forage in these poisonous fields and are exposed to contaminated plants and dust from seed planting. EPA has never received for these pesticides, as required by their "conditional registration," field studies to enable a full agency evaluation of their bee-killing effects. Meanwhile, scientific studies have shown the adverse impacts of clothianidin and thiamethoxam on bees. The data is clear, the law has been violated, and EPA must act.
For the most recent action being taken to protect honey bees, see the Beyond Pesticides Pollinators and Pesticides page.
Join us April 5-6 for Beyond Pesticides' 31st National Pesticide Forum, where New Mexico honey bee inspector, president of the New Mexico Beekeepers Association, and a beekeeper for over 30 years, Les Crowder, will discuss organic and natural solutions in beekeeping for problems commonly treated with chemicals, and the role beekeepers play in protecting biodiversity. Organic agriculture, beekeeping, resilient food systems, pesticides and much more will be discussed. Space is limited so register now.
All unattributed positions and opinions in this piece are those of Beyond Pesticides.
Source: http://www.beyondpesticides.org