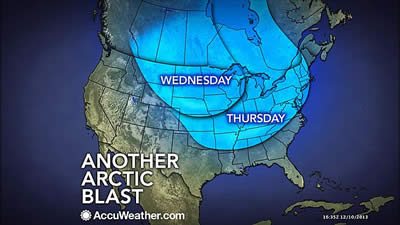 AccuWeather.com-(ENEWSPF)- AccuWeather.com reports another blast of Arctic air continues to roll southeastward Wednesday over the Midwest and will reach the Northeast by Thursday. The frigid air will continue to trigger heavy lake-effect snow.
Arctic Blast
The air will be the coldest of the season so far from Chicago, Cincinnati, Detroit, Pittsburgh, Washington, D.C., Philadelphia, New York City and Boston.
The Arctic blast will be accompanied by stiff breezes and gusty winds, which will produce RealFeel® temperatures well below zero over the northern Plains and much of the Midwest and eventually near zero in parts of the I-95 region.
According to the National Weather Service, the air has already delivered the lowest temperatures for so early in the season since 1978 in Chicago and Rockford, Ill. The temperatureTuesday morning plunged to minus 6 F and minus 9 F respectively.
The worst of the cold was reaching across the Upper Midwest, and will pierce the Ohio Valley and eastern Great Lakes Wednesday night and finally the Atlantic SeaboardThursday into Thursday night.
Lake-Effect Snow
The action of frigid air passing over the open waters of the Great Lakes will set up bands of heavy lake-effect snow, that will produce whiteouts in some locations of upstate New York, northwestern Pennsylvania, northwestern Indiana and Michigan.
Areas likely to be hardest hit by lake-effect snow include New York state's Tug Hill region and areas south of Buffalo and the eastern shores of Lake Michigan and part of the Upper Peninsula of Michigan, south of Lake Superior. The snowiest spots within these areas are likely to receive between 3 and 4 feet of snow through Friday.
As of Wednesday morning, parts of upstate New York have received a couple of feet of snow. Portions of Lewis County, have picked up 25 inches with 28 inches falling on part of Oswego County. Perrysburg, in Cattaraugus County, has received 18 inches.
A bit of snow was occurring over the Midwest away from lake-effect areas due to a weak Alberta Clipper storm riding along the leading edge of the Arctic air. Along the East Coast, the air will follow a couple of days behind a storm that brought accumulating snow Tuesday.
As the leading edge of the Arctic air approaches light snow will streak into the central Appalachians Wednesday evening and can survive as a few flurries near the Atlantic CoastWednesday night into early Thursday.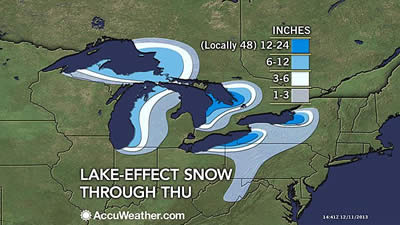 By Alex Sosnowski, Expert Senior Meteorologist for AccuWeather.com