Washington, DC–(ENEWSPF)–December 17, 2013. A new rule proposed by the U.S. Food and Drug Administration (FDA) requires manufacturers of antibacterial hand soaps, body washes, and other consumer goods to prove that their products are both safe for long-term use and more effective than regular bar soap in order to remain on the market. This announcement, though long-delayed, represents a positive step towards reining in the unnecessary use of antibacterial chemicals at a time when top-level government scientists at the U.S. Centers for Disease Control and Prevention (CDC) have asserted that we've reached "the end of antibiotics." With the publication of its article The Ubiquitous Triclosan: A common antibacterial agent exposed in 2004, Beyond Pesticides began a campaign to ban triclosan because of it cross resistance with antibiotics, endocrine disrupting effects, and lack of benefits.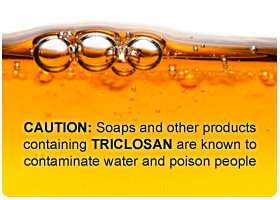 "Numerous studies have shown that antibacterial soaps cause more harm than any of their perceived benefits," said Nichelle Harriott, staff scientist at Beyond Pesticides. "For the protection of human health and the environment, we urge the FDA to move quickly to get these products off of the market."
FDA's new rule, announced Monday, will be open for public comment for 180 days and manufacturers will have one year to submit new data on their products. FDA hopes to finalize its rule and determine whether antibacterial products can be "generally recognized as safe" (GRAS) by September 2016. "Our goal is, if a company is making a claim that something is antibacterial and in this case promoting the concept that consumers who use these products can prevent the spread of germs, then there ought to be data behind that," said Sandra Kweder, M.D., deputy director of the Office of New Drugs in FDA's Center for Drug Evaluation and Research. "We think that companies ought to have data before they make these claims."
Many companies have already recognized the hazards associated with triclosan and have taken action to remove the chemical from their products. See the companies that have signed the Triclosan-free pledge to stop the use and/or sale of Triclosan-containing consumer products (non-prescription) and recognize the harm posed to human health and the environment by triclosan.
Triclosan and its chemical cousin triclocarban are among the 22 active ingredients subject to the new rule, which comes nearly 40 years after the agency first began evaluating these chemicals. While many major manufacturers, including Johnson and Johnson and Proctor and Gamble, have already announced their intent to eliminate triclosan from their products, the chemical still remains widespread in a number of consumer goods. Though Colgate Palmolive announced in 2011 that it would reformulate many of its products to take out triclosan, it has refused to change the formula for its mainstay Colgate Total brand toothpaste. Toothpaste containing triclosan is not subject to this rulemaking as FDA has indicated that the chemical is effective as an anti-gingivitis ingredient.
Peer-reviewed scientific studies have revealed a laundry list of adverse impacts resulting from the cosmetic use of antibacterial soaps. Triclosan is an endocrine disruptor and has been shown to affect male and female reproductive hormones and possibly fetal development. It has also been shown to alter thyroid function, and other studies have found that due to its extensive use in consumer goods, triclosan and its metabolites are present in umbilical cord blood and human milk. The CDC estimates that triclosan is present in the urine of 75% of the U.S. population, with concentrations that have increased by 50% since 2004. Studies even show that triclosan can react with the chlorine in tap water to form chloroform at rates of exposure considered significant by the authors of the research.
In 2012, researchers from the University of California at Davis (UC Davis) and the University of Colorado found that triclosan impairs muscle function in fish and mice and stated that the results they found show "strong evidence that triclosan could have effects on animal and human health at current levels of exposure." Allison Aiello, Ph.D., at University of Michigan presented her research on triclosan to the 30th National Pesticides Forum at Yale University. Issac Pessah, Ph.D., co-author of the muscle function study and chair of the Department of Molecular Biosciences at UC Davis spoke at Beyond Pesticides 31st National Pesticide Forum. His talk in its entirety can be viewed here.
A recent survey conducted by the U.S. Environmental Protection Agency and U.S. Geologic Survey found that greater than one third of U.S. public water utilities contain detectible levels of triclosan. A study published earlier this year in Environmental Science and Technology found that when present in streams, triclosan alters bacterial communities and increases bacterial resistance. Research from the University of Minnesota published in January of this year found triclosan and its toxic derivatives building up in the sediment of freshwater lakes.
While FDA regulates the use of triclosan and other antibacterials in soaps, washes, deodorants and other similar consumer goods, EPA regulates the use of triclosan as a pesticide, such as in anti-bacterial impregnated products like clothing or pencils. Both agencies indicate that they are working closely with each other "to ensure government wide consistency in the regulation of the chemical," according to FDA's press release. EPA's registration review on triclosan is still expected to be completed this year.
As these new rules are being finalized, Beyond Pesticides continues to urge concerned consumers to join the ban triclosan campaign and sign the pledge to stop using triclosan. Since the rule won't go into effect until at least 2016, make sure to continue to read the label of personal care products in order to avoid those containing triclosan. You can also encourage your local schools, government agencies, and businesses to use their buying power to go triclosan-free. Urge your municipality, school, or company to adopt the model resolution that commits to not procuring or using products containing triclosan. See Beyond Pesticides Triclosan webpage for additional information.
All unattributed positions and opinions in this piece are those of Beyond Pesticides.
Sources: FDA, CNN, http://www.beyondpesticides.org