Washington, DC–(ENEWSPF)–May 28, 2015. A report released by the Canadian Senate's Committee on Agriculture and Forestry this week acknowledges that neonicotinoids are harmful to bees, although it adds that more scientific data is needed before making any policies in response. The report was released exactly one week after a similar announcement by the White House, which also identifies key threats, but falls short of recommendations submitted by Beyond Pesticides, beekeepers, and others who stress that pollinator protection begins with strong regulatory action and suspension of bee-toxic pesticides.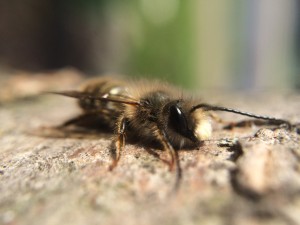 The Canadian report, titled "The Importance of Bee Health to Sustainable Food Production in Canada," highlights different stressors that cause harm to bees, one of which includes neonicotinoids, a class of widely-used insecticides that have been linked by a growing number of studies to global bee declines. Other stressors mentioned include climate change, diseases and parasites, and lack of floral diversity. The report calls for Canada's Pest Management Regulatory Agency (PMRA) to quickly complete its re-evaluation of neonicotinoid pesticides. Neonicotinoids have been approved for use in Canada for 10 years, but the PMRA is in the process of re-examining their use.
Senator Percy Mockler, the chair of Senate's agriculture committee, stressed waiting for the findings of the PMRA's evaluations before making a decision on the pesticide. He says similar evaluations are being carried out in the United States and in Europe. "I think it very important that we establish policies based on science," he said at a press conference following the report's release Wednesday.
The report outlines nine specific recommendations to improve bee health in Canada, including:
Allowing the import of "bee packages" used to start colonies from other countries, such as the United States.
Accelerate the conditional registration process in order to reduce the current number of conditional registrations granted to neonicotinoid active ingredients.
Continue monitoring pollinator mortality during the spring of 2015 to determine effectiveness of protective measured adopted for the 2014 planting seasons.
Increasing the amount and duration of research funding in order to conduct long-term research into the preservation of pollinator health.
Improve management practices of hobbyist beekeepers and growers while minimizing chemical product use and ensuring the availability of untreated seeds.
Improve pollinator habitat via initiatives such as the planting of selected wild flowering plants on median strips and highway shoulders, and other areas.
The Canada report mirrors the recent White House announcement addressing pollinator health. The Pollinator Health Task Force, established by President Obama in June 2014, brought together federal agencies to "reverse pollinator losses and help restore populations to healthy levels," and involved developing a National Pollinator Health Strategy and a Pollinator Research Action Plan. The Strategy outlines several components, such as a focus on increased pollinator habitat, public education and outreach, and further research into a range of environmental stressors, including systemic neonicotinoid pesticides. While well-intentioned, the Strategy ultimately works at cross-purposes by encouraging habitat, but continuing to allow pesticides that contaminate landscapes. In comparison, although the Canada report puts more of an emphasis on addressing concerns regarding neonicotinoid insecticides, it also falls short by failing to suspend the use of these chemicals. In the meantime, the science linking neonicotinoids to widespread bee deaths continues to grow.
Beyond Pesticides and its allies have called for suspensions on neonicotinoid pesticides, particularly the most widely used and toxic: imidacloprid, clothianidin and thiamethoxam. These pesticides are used in a variety of home and garden products, and most commonly in corn and soybean seed treatment, where they remain in plant tissues, including pollen and nectar, for long periods of time. Along with suspensions to registrations, groups have urged EPA to conduct broader reviews on the impact of these systemic pesticides on other beneficial non-target organisms, including endangered species, and impacts to ecosystem biodiversity.
There are several factors that contribute to pollinator decline. However, it is the neonicotinoid class of pesticides that is receiving the most scrutiny from scientists and beekeepers. A growing number of studies find that even at low levels neonicotinoids impair foraging ability, navigation, learning behavior, and suppress the immune system, making bees more susceptible to pathogens and disease. A recent study finds that bees will favor neonicotinoid contaminated food over uncontaminated food, indicating that these chemicals can pose unique risks within supposedly bee-friendly habitat. In April, EPA announced a moratorium on new neonicotinoid pesticide products and uses, and its draft report on treated soybean seeds concluded that the neonicotinoid treatments were not efficacious.
Sources: CBC, www.beyondpesticides.org
Photo Source: Douglas Kirk
All unattributed positions and opinions in this piece are those of Beyond Pesticides.