Washington, DC–(ENEWSPF)–January 27, 2015. In evaluating a farmworker poisoning incident in Washington State last year, a Centers for Disease Control and Prevention (CDC) report identifies "at least three potential occupational hazards in agriculture: off-target pesticide drift, toxicity of some recently marketed pesticides, and a gap in worker notification requirements." The report recounts the poisoning in April 2014 of 20 farmworkers at a Washington State cherry farm who were trellising cherry tree branches when a new pesticide mixture being applied to a neighboring pear orchard drifted on to their work site, causing acute illness within minutes. Sixteen farmworkers sought medical treatment for symptoms ranging from headache and eye irritation to gastrointestinal disorders and respiratory problems. Half of the affected workers had symptoms which persisted over two weeks. The workers were not notified of the planned pesticide application at the neighboring orchard.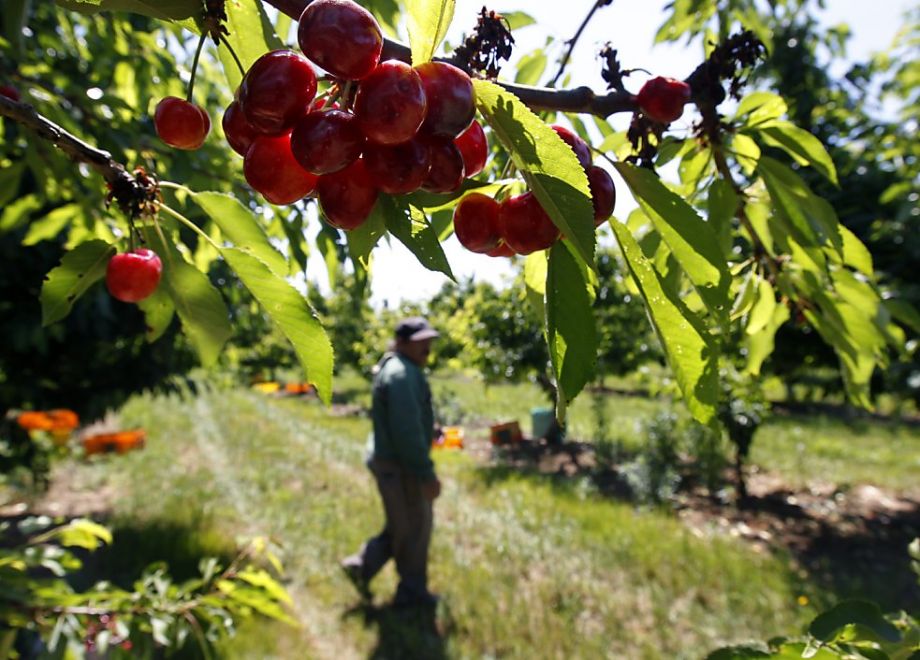 The CDC report on the incident, authored by Geoffrey M. Calvert, MD (National Institute for Occupational Safety and Health), Luis Rodriguez, and Joanne Bonnar Prado, MPH (Washington State Department of Health), cites 31% of acute pesticide related illnesses for farmworkers between 2005 and 2012 occurring as a result of off-target drift from a neighboring farm. In the April incident, farmworkers were anywhere between 30 and over 350 feet away from the site of the pear orchard's pesticide application. Wind speed, measured hours before the incident when the application first began at 7AM, was recorded as low at 0-4 mph. The incident occurred at 1:30 p.m., at which time the winds were blowing up to 18mph.
As the CDC report notes, although regulations prohibit applying pesticides in a manner that results in contact with workers or other persons, these regulations do not explicitly indicate that applications must stop when an applicator observes workers or bystanders in neighboring, non-target areas. Federal response to the problems associated with pesticide drift has been minimal, with a focus on voluntary programs. Beyond Pesticides provided comments to the U.S. Environmental Protection Agency (EPA) last year regarding draft guidance to better address pesticide drift in the risk assessment for pesticides. To properly assess harm from drift, peer-reviewed and scientifically sound human health and ecological toxicity data must be available and fully evaluated, including low-dose and sublethal toxicity. However, data gaps continue to plague the agency's review process, resulting in underestimated risks and subsequent harms, as demonstrated by this incident. EPA must realize that these flaws in its risk assessment process habitually continue to allow products that pose unreasonable adverse effects on workers and the environment. (For additional information on pesticide drift see Beyond Pesticides article Getting the Drift on Chemical Trespass).
The pesticide mixture applied in the April incident, which included the chemicals pyridaben, novaluron, and triflumizole, had no previous reports of human illness associated with its application according to CDC. Pyridaben is an insecticide which has product warning labels that indicate it is fatal if inhaled, and also requires extensive personal protective equipment, which the applicators were wearing but affected farmworkers were not (the applicators did not suffer any noticeable ill effects from the spray). Novaluron is an insect growth regulator which the CDC report indicates can cause substantial but temporary eye injury. However, EPA's fact sheet on the chemical claims it is not an eye or dermal irritant. In the case of triflumizole, an imidazole fungicide first registered in 2007, no peer-reviewed in-vivo studies on biological organisms are available.
The pesticide mixture that caused illness in Washington state farmworkers was not tested for its cumulative effect on human health or the environment, and EPA has no current plans to address this issue. Despite scientific evidence showing that pesticide mixtures may amplify or decrease the toxic effect of individual active ingredients when combined, only a very limited number of possible interactions are tested. As Beyond Pesticides wrote over 10 years ago in the article Synergy: The Big Unknowns of Pesticide Exposure, while testing all possible combinations of registered pesticides is unlikely, the agency should prioritize common chemical mixtures as well as those that are prone to off-site drift.
In addition to the problems concerning drift and pesticide mixtures in the CDC report, workers did not receive prior notification of a pesticide application at the neighboring pear orchard. Although there was evidence that managers at both farms had previously given each other notice when a spray event was planned, recent staff turnover apparently caused a breakdown in this communication. CDC references a previous report it produced in California, which found a number of acute farmworker illnesses related to a simple lack of prior notification of a pesticide application.
EPA proposed updated Farmworker Protection Standards (WPS) early last year after over two decades of delay. While EPA's guidance adds a new provision stating that an applicator must "immediately cease or suspend application if any worker or other person, other than an appropriately trained and equipped handler, is in the treated or entry restricted area," as the CDC report notes, this requirement would only apply to the "treated" or "entry restricted area," not to off-site areas where bystanders or workers on other farms may be. No provisions in the agency's new WPS guidelines would require prior notification between farms that could prevent this incident from occurring again (Read Beyond Pesticides' full comments on Worker Protection Standards, and see Farmworker Justice's report Exposed and Ignored for more information about how pesticide endanger the nation's farmworkers).
The conventional approach to pest management makes pesticide drift an inherent risk to farmworkers and the wider environment. Supporting organic agriculture is one of the best ways you can eliminate hazardous pesticide drift and support the health of the workers that grow our food. Vote with your wallet, remembering that food buying decisions support or reject hazardous agricultural practices, protection of farmworkers and farm families. For more information on farmworker hazards associated with pesticides used in chemical-intensive, conventional agriculture, see Beyond Pesticides' Eating with a Conscience.
Join us as we continue the conversation on farmworker protection this spring at Beyond Pesticides' 33rd National Pesticide Forum in Orlando, FL, April 17-18th 2015. "Agricultural Justice, Age of Organics, and Alligators" will focus on agricultural justice, including the impact of pesticide use on human health and the environment, particularly as it relates to farmworker protections and organic agriculture. Early bird registration is in effect until March 15, so make your plans to register today!
All unattributed positions and opinions in this piece are those of Beyond Pesticides.
Sources: Centers for Disease Control, Oregonlive, www.beyondpesticides.org
Photo Source: Paul Chinn, The Chronicle