Washington, DC–(ENEWSPF)–March 4, 2016.  Honey bees experience a learning and memory deficit after ingesting small doses of the insecticide chlorpyrifos, potentially threatening their success and survival, according to a study in New Zealand. Chlorpyrifos is a highly neurotoxic organophosphate pesticide used worldwide on crops to protect against insects and mites.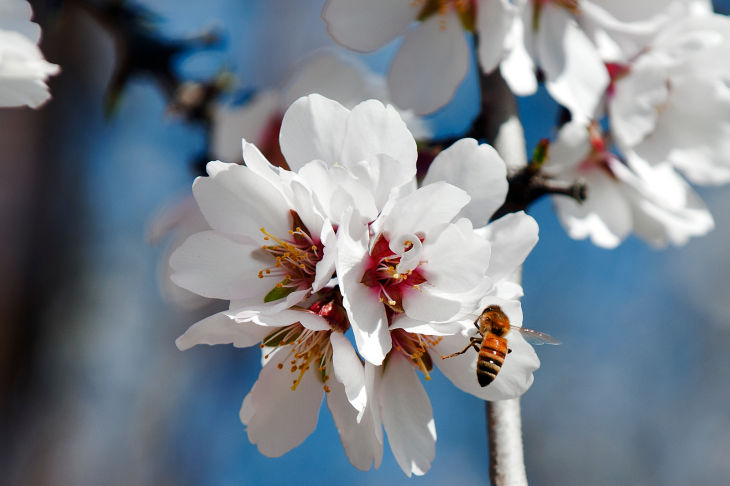 The study, Measurements of Chlorpyrifos Levels in Forager Bees and Comparison with Levels that Disrupt Honey Bee Odor-Mediated Learning Under Laboratory Conditions, published in Ecology, examines chlorpyrifos levels in bees collected from 17 locations in Otago, New Zealand and compared doses of the pesticide that cause sub-lethal effects on learning performance under laboratory conditions with amounts of chlorpyrifos detected in bees in the field. Researchers found chlorpyrifos in 17% of the sites sampled and 12% of the colonies examined. Honey bees are found to experience harmful effects to smell memory and learning, and reduction in specificity of memory recall.
Chlorpyrifos is just one of many pesticides that have frequently been detected in honey bees. According to a study conducted last year by the U.S. Geological Survey (USGS), 72% of bees tested positive for pesticide residues, raising concerns about unintended pesticide exposures where land uses overlap or are in proximity to one another. Researchers find residues of the bee-toxic neonicotinoids thiamethoxam (46%), clothianidin (24%), imidacloprid (13%), as well as fipronil desulfinyl (7%; degradate). They also detected bifenthrin (28%) and chlorpyrifos (17%), and the fungicides azoxystrobin (17%), pyraclostrobin (11%), fluxapyroxad (9%), and propiconazole (9%), along with the herbicides atrazine (19%) and metolachlor (9%).
Honey bees are not the only living organisms adversely affected by chlorpyrifos exposure. Studies have documented that exposure to low levels of organophosphates like chlorpyrifos during pregnancy can impair learning, change brain function, and alter thyroid levels of offspring into adulthood. The evidence of the neurotoxic dangers associated with chlorpyrifos' exposure is extensive and consistent. See the Pesticide Induced-Disease Database (PIDD) for more information.
In fall of 2015, EPA proposed to revoke all food tolerances for chlorpyrifos. If EPA's rule is finalized, chlorpyrifos would be effectively eliminated from use in agriculture 15 years after consumer uses were discontinued. However, non-food uses, including application to golf courses, turf, greenhouses and for public health mosquito control, are not affected by this decision and will remain.
Chlorpyrifos leads a list of numerous toxic chemicals that are central to chemical-intensive agricultural practices that threaten human health and the environment. Although eliminating its use in agriculture is important, the delay in removing the remaining uses of this well-researched and highly toxic chemical reflects the failure of the pesticide regulatory process. Ultimately, the widespread adoption of organic management is necessary to protect consumers and the environment in the long-term. Beyond Pesticides has long sought a broad-scale marketplace transition to organic practices that disallow the use of toxic synthetic pesticides by law and encourages a systems-based approach that is protective of health and the environment. This approach never allows the use of highly toxic synthetic pesticides, let alone organophosphates, such as chlorpyrifos, and advances a viable, scalable path forward for growing food.
All unattributed positions and opinions in this piece are those of Beyond Pesticides.
Sources: Phys.org, http://www.beyondpesticides.org