Washington, DC–(ENEWSPF)–October 4, 2013. It was hoped that a recent meeting in Florida between beekeepers and citrus growers could create stronger communication between both agricultural sectors. Beekeepers in Florida have begun to voice growing concerns over the increased use of insecticides on citrus trees where their bees are used as pollinators. Though this meeting worked to set up an important dialog between beekeepers and citrus growers, it focused predominantly on the effects of accidental exposure. This focus does not take into account the long-term residues these systemic insecticides can leave in the environment, contaminating nectar and pollen.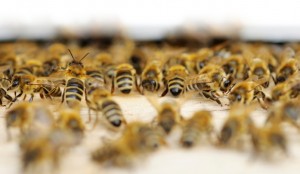 The recent September meeting that was organized by the Florida Agriculture Commissioner Adam Putman, a former U.S. congressman and citrus farmer, was meant to start a dialog between citrus growers and beekeepers. This dialog was viewed as necessary by Florida's Department of Agriculture as beekeepers are worried over the increased use of insecticides in citrus groves. Recently, citrus farmers have increased their use of insecticides from several times a year to applications every month or greater to combat the invasive Asian citrus pysllids. Asian citrus pysllids can infect trees with a bacterium that causes citrus greening.
Honey bees in Florida pollinate several types of citrus fruit, such as tangerine and tangelo trees and, according to Gene Albrigo, Ph.D., serve an unrecognized role in pollinating oranges and grapefruit. Beekeepers also have bees forage in citrus fruit so their bees produce a very popular citrus-flavored honey. Though communication between beekeepers and citrus farmers is important, the meeting appeared to only focus on how to avoid bees being accidently sprayed while foraging. This approach does address how the use of systemic neoncotinoid insecticides can result in long-term damage. Neonicotinoid insecticides are taken up by the pants vascular system and are expressed in contaminated pollen and nectar. Clothianidin, a neoncotinoid, can last up to 19 years in the soil accordng to a recent study.
Recently, one of Florida's largest citrus growers, Ben Hill Griffin, Inc., was fined $1,500 after a state investigation found that the farm illegally sprayed pesticides, resulting in the death of millions of managed honey bees. According to the report by the Florida Department of Agriculture Montana 2F was applied to the roots of a total of 50 acres of young citrus trees. The active ingredient of Montana 2F is imidacloprid, which is one of the most widely used chemicals in the neonicotinoid class of insecticides, which have been identified as a leading factor in bee decline.
The low fine of $1,500 given to one of the largest citrus growers in Florida is problematic because it does not create a strong deterrent for future misapplications. The maximum fine for applying a pesticide in violation of the label in the state of Florida is $10,000 per occurrence, which pales in comparison to $240,000 in lost honey production for the beekeepers. Pesticide misapplication incidents have created obvious tensions between beekeepers and citrus growers. Bobbi Bell of Bell Apiaries LLC in Fort Meade was quoted in The Ledger saying, "The days of putting bees right in the middle of a grove, I think those days are gone."
The U.S. Environmental Protection Agency (EPA) recently acknowledged that current pesticide labels do not adequately protect honey bees and announced new label language to prohibit the use of neonicotinoid pesticides when bees are present. This may help curtail some bee kills, as farms have been spraying during the citrus bloom. The new labels will also include a "bee advisory box" and icon with information on routes of exposure and spray drift precautions. However, beekeepers and environmental groups question the efficacy and enforceability of the new label changes in curtailing systemic pesticides. To date, EPA has ignored calls for a ban on these chemicals and continues to try to mitigate their impacts on bees and other pollinators.
The pesticides involved in the Florida incident were purportedly used to control Asian citrus psyllid, which can spread a disease, Huanglongbing (HLB), or citrus greening, to trees. A pysllid that is infected with HLB can transfer the bacterium every time it feeds on a tree, and once a tree is infected with the disease there is no known cure. The disease can lie dormant for several years before tests are able to detect it. In California, efforts are currently underway to introduce parasitic wasps from the Asian citrus psyllid's native range. Teams of invasive species experts have recently released tamarixia wasps to try to combat the pysllids in urban areas across southern California. The wasps curb pysllid populations by laying eggs inside the psyllid nymph's stomach. As the eggs hatch, larvae slowly eat away at the nymph. The teams hope that after the wasps hatch they will fly to neighboring trees and lay eggs in new nymphs and establish a growing population. Even though the team is only about a year and a half into this effort, at some release sites the population of psyllids has dramatically declined.
Given that one in every three bites of food is dependent on pollination, and that commercial beekeeping adds between $20 to $30 billion dollars in economic value to agriculture each year, it is imperative that action is taken to protect bees and other pollinators. Beyond Pesticides' BEE Protective supports nationwide local action to protect honey bees and other pollinators from pesticides.
All unattributed positions and opinions in this piece are those of Beyond Pesticides.
Sources: The Ledger, http://www.beyondpesticides.org