Washington, DC–(ENEWSPF)–November 28, 2016.  Last week, a  federal judge effectively rubber stamped U.S. Environmental Protection Agency (EPA) policies that allow seeds to be coated with bee-toxic pesticides known as neonicotinoids. These pesticides, persistent in water and soil, are associated with acute bee kills, widespread pollinator declines and environmental damage. The Judge's Order was issued on Nov. 21 in the case of Anderson et al. v. McCarthy, No. 3:16-cv-00068-WHA (N.D. Cal.).
"It is astounding that a judge, EPA or anyone with any common sense would not regulate this type of toxic pesticide use, especially when the seed-coatings are so broadly applied and there is so much at risk. Study after study has shown that seeds coated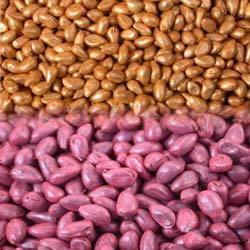 with these chemicals are a major culprit in catastrophic bee-kills. Now more than ever our country's beekeepers, environment and food system deserve protection from agrichemical interests, and it is EPA's job to deliver it," said Andrew Kimbrell, Director of Center for Food Safety.
The neonicotinoids share a common mode of action that affects the central nervous system of insects, resulting in paralysis and death. They include imidacloprid, acetamiprid, clothianidin, dinotefuran, nithiazine, thiacloprid and thiamethoxam. Neonicotinoid pesticides have consistently been implicated as a key contributor in pollinator declines, not only through immediate bee deaths, but also through sublethal exposure that causes changes in bee reproduction, navigation, and foraging. In addition to toxicity to bees, neonicotinoids have been shown to also adversely affect birds, aquatic organisms and contaminate soil and waterways, and overall biodiversity. EPA has identified uncertainties about this class of chemicals since their initial registration. However, it has continued to allow their use, despite incomplete information and a large body of independent scientific studies linking the chemicals to adverse environmental effect. With the court decision, it is likely that current policies will remain in effect.
The judge based his dismissed on administrative procedure, not on the fundamental question of whether the allowed seeds are harming honey bees. In fact, the judge stated in his conclusion, "The Court is most sympathetic to the plight of our bee population and beekeepers. Perhaps the EPA should have done more to protect them, but such policy decisions are for the agency to make."
"The broader implications of this decision drive the nails in the bee industry's coffin. Of course as a beekeeper I am concerned about my livelihood, but the public at large should also be alarmed. More than one-third of the average person's diet is generated by pollinators that I help manage," said Jeff Anderson, a California and Minnesota-based commercial beekeeper and honey producer, who was the lead plaintiff in the case.
Filed in response to the well documented impact the exemption for coated seeds and the dust they create has on the nation's beekeepers, the suit's aim was to address the lack of recourse beekeeper have when their hives are harmed. For example, one plaintiff in the case, Bret Adee, co-owner of the nation's largest commercial beekeeping operation, suffered approximately $800,000 in damages in just one bee-kill incident caused by toxic neonicotinoid-laced dust during the planting of corn fields near his hives. Because of EPA's regulation exemption, Mr. Adee was unable to obtain an enforcement action to protect his bees, effectively leaving him to fend for himself when it came to protecting his livelihood.
The plaintiffs in the case were beekeepers Jeff Anderson, Bret Adee, and David Hackenberg; farmers Lucas Criswell and Gail Fuller; and the Pollinator Stewardship Council, American Bird Conservancy, Pesticide Action Network of North America (PANNA), and the Center for Food Safety.
All unattributed positions and opinions in this piece are those of Beyond Pesticides.
Sources: Center for Food Safety Press Release