If Florence stalls or significantly reduces its forward speed as it nears the coast, it could prolong the effects of damaging winds, storm surge flooding and beach erosion, and would also greatly enhance inland flooding of streams and rivers.
By Renee Duff, AccuWeather meteorologist
AccuWeather Global Weather Center –(ENEWSPF)– All interests along the coasts of the Southeast and mid-Atlantic are being put on alert for a potential strike from Category 4 Hurricane Florence during the second half of the week.
AccuWeather meteorologists believe that Florence will reach the Carolina or Virginia coasts and pose a serious threat to lives and property late this week.
There is the potential for Florence to stall or significantly reduce its forward speed as it nears the coast, which could prolong the effects of damaging winds, storm surge flooding and beach erosion. A stall or slow forward speed would also greatly enhance inland flooding of streams and rivers.
"There's never been a storm like Florence. It was located farther north in the Atlantic than any other storm to ever hit the Carolinas, so what we're forecasting is unprecedented. Also, most storms coming into the Carolinas tend to move northward, and this storm looks like it's going to stall over the region and potentially bring tremendous, life-threatening flooding," AccuWeather Vice President of Forecasting and Graphics Operations Marshall Moss said.
States of emergency have been declared in North Carolina, South Carolina, and Virginia in preparation for Florence's arrival.
The exact track, overall size and forward speed of the storm will determine which locations along the coast receive the worst of Florence's damaging winds, heavy rain, and storm surge flooding.
Hurricane Florence regained Category 4 strength as of midday Monday.
Florence became the first Category 4 hurricane of the 2018 Atlantic season last week but later weakened due to a zone of strong wind shear and cooler waters.
Very warm water and low wind shear may allow additional strengthening through midweek.
Following an eye wall replacement cycle during Monday night and Tuesday morning, Florence began to grow in size and become better organized Tuesday afternoon. A jump in strength to a Category 5 hurricane is possible Tuesday night or Wednesday.
Another eye wall replacement cycle is possible before the hurricane reaches the coast to end the week.
Seas to become dangerous well ahead of Hurricane Florence
Large swells will propagate outward hundreds of miles away from the center of the storm this week.
The swells will make for rough seas along and well off the U.S. East Coast, Bermuda, the northern shores of the Caribbean islands and the south- and southeast-facing shores of the Canada Maritimes, according to AccuWeather Senior Meteorologist Alex Sosnowski.
"The rough surf and seas can occur hundreds of miles away from the path of the storm," Sosnowski said.
The frequency and intensity of rip currents will increase.
If caught in a rip current, do not panic or fight the current. Swim parallel to the shore until you are free of the current's grip. Then swim at an angle, away from the current, toward the shore.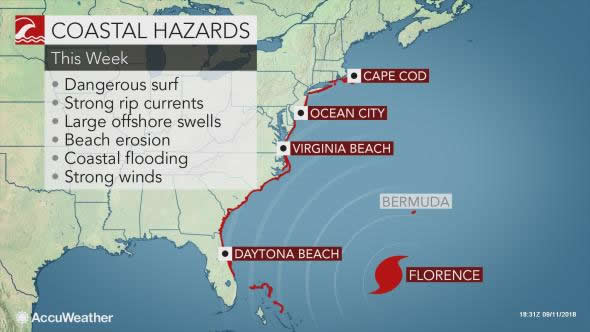 "The surf may be especially hazardous since most lifeguards are not on duty past Labor Day," Sosnowski said.
Operators of small craft should heed all advisories that are issued and remain in port if necessary.
Larger vessels, such as cruise or cargo ships, may have to reroute their courses to avoid Florence's dangerous seas.
For more information on Hurricane Florence, visit AccuWeather.com.