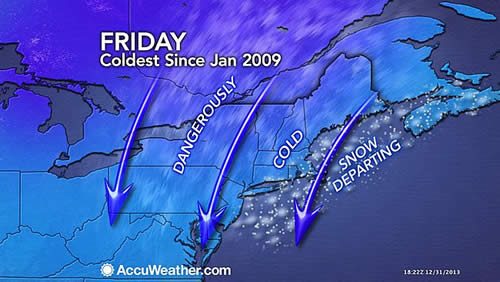 AccuWeather.com-(ENEWSPF)- AccuWeather.com reports as frigid air continues its grip on the Upper Midwest, another surge of frigid air will pay a visit to parts of the Northeast through the end of the week and could deliver the coldest weather in several years.
In the Midwest, the bitterly cold air will continue to bring frostbite dangers to those not properly dressed and life-threatening conditions for the homeless or those suffering without heat.
The same conditions will reach into much of the Northeast later this week, into an area that has had only moderate cold thus far.
The persistent cold can drain car batteries and damage poorly maintained vehicles.
Many ice-melting compounds are much less effective at the temperatures expected.
Areas from the Dakotas to Minnesota, Wisconsin, Iowa and Michigan will remain in the deep freeze through the first couple of days of 2014.
Areas along the Canada border will remain below zero or barely reach the single digits for high temperatures through Friday. Nighttime lows in the region will plunge to 30 degrees below zero in some places.
Only right around the Great Lakes will open waters moderate the frigid air slightly, by preventing constant subzero temperatures.
However, farther east, another large bubble of frigid air is poised to push southward out of eastern Canada and into parts of the mid-Atlantic and New England.
During Wednesday night, ahead of a snowstorm brewing for much of the Northeast, temperatures will plunge to 30 degrees below zero around the St. Lawrence Valley. Where skies are clear and winds are light, temperatures could plummet to almost 40 degrees below zero and rival all-time record lows.
Once the storm moves away in the Northeast, the gates of the Arctic will be opened and frigid air will be able to pour southward. The air will be able to avoid the waters of lakes Ontario and Erie and push right into much of Pennsylvania, New York state, New Jersey, Maryland, Delaware and eastern Virginia, as well as New England.
According to Weather Expert Bernie Rayno, "This is likely to be the coldest weather for much of the Northeast since January 2009."
Lows in the cities of Philadelphia, New York, Baltimore and Wilmington, Del., will drop into the single digits Friday night.
Lows in Scranton, Pa.; Hartford, Conn.; Albany, N.Y.; Providence, R.I.; Portland, Maine; and Boston will be below zero.
Conditions will be dry and very cold for the NFL playoff game at Philadelphia Saturday evening. Temperatures will be in the lower 20s.
The weather will be a bit less harsh for the NFL playoff game at Cincinnati Sunday afternoon with temperatures in the 30s. However, there can be a bit of snow for that game.
By Alex Sosnowski, expert senior meteorologist for AccuWeather.com