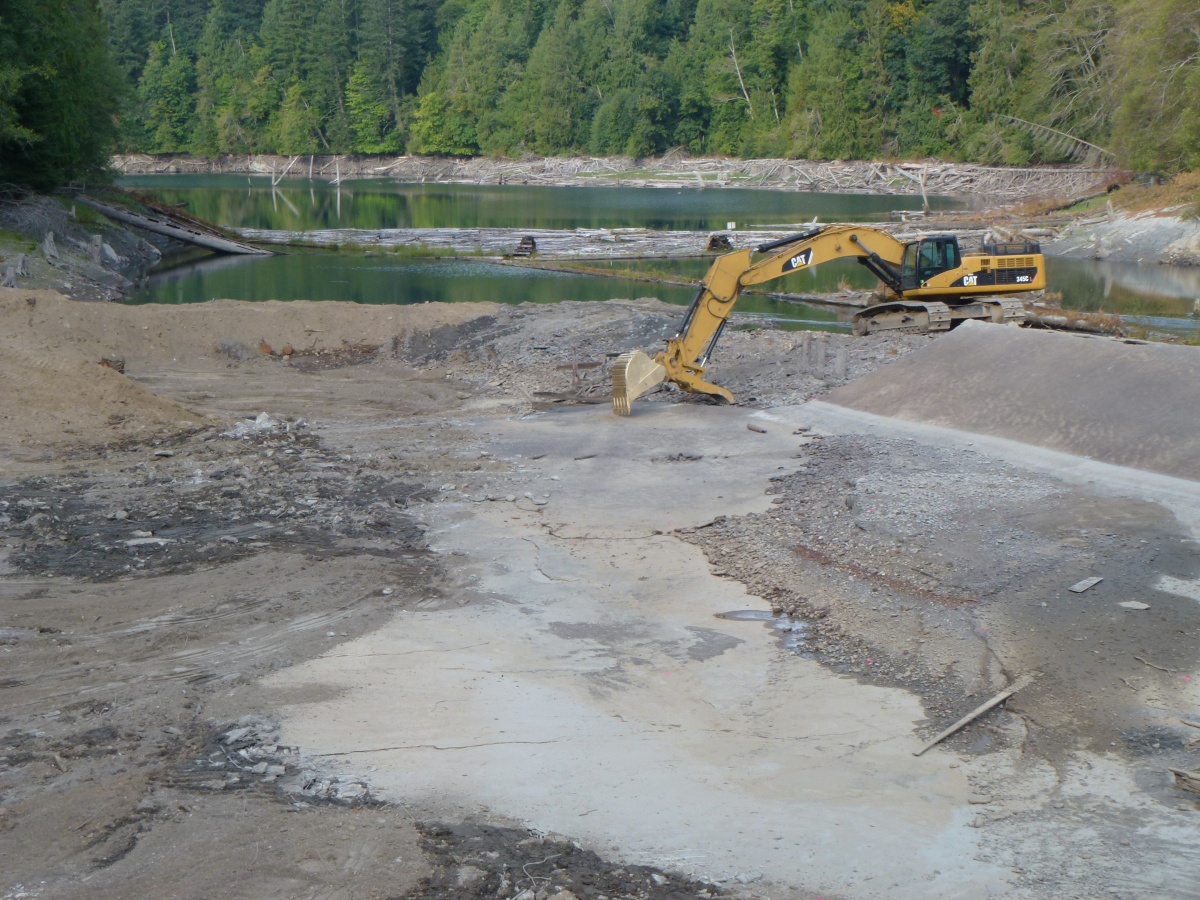 The Elwha Dam removal project. Photo by Kate Benkert, U.S. Fish and Wildlife Service.
OREGON–(ENEWSPF)–October 18, 2016
By: John Bezdek, Senior Advisor to the Deputy Secretary, U.S.Department of the Interior
In the United States, dams can provide numerous benefits, including water supply, hydropower, and flood protection. Dams are also an important part of building long-term resiliency to help protect our communities and economy from the impacts of drought. However, there are tens of thousands of dams across the United States that no longer serve their intended purpose and have become a burden to local communities, a threat to public health and safety, are no longer economically viable, and an obstacle to healthy ecosystems. That is why the Obama Administration believes in a balanced approach in evaluating dams where new opportunities for water storage that make economic and environmental sense are evaluated while we also examine  the potential removal of existing dams on a case-by-case basis. Important factors to consider when evaluating potential dam removal are whether: there are societal benefits to maintaining the dams, the owner is in agreement they should be removed, their removal makes economic sense, and there are environmental benefits to be achieved from their removal.
In keeping with this case-by-case approach, today, Secretary of the Interior Sally Jewell sent a letter to the Federal Energy Regulatory Commission offering her support for the removal of four PacifiCorp-owned dams on the Klamath River. These dams, built in the early 20th century, provided hydroelectric power that was an important part of developing the region. However, due to the costs of relicensing, their owner has made a business decision that it makes better economic sense to remove these dams than to maintain them, a determination supported by the public utility commissions of both California and Oregon.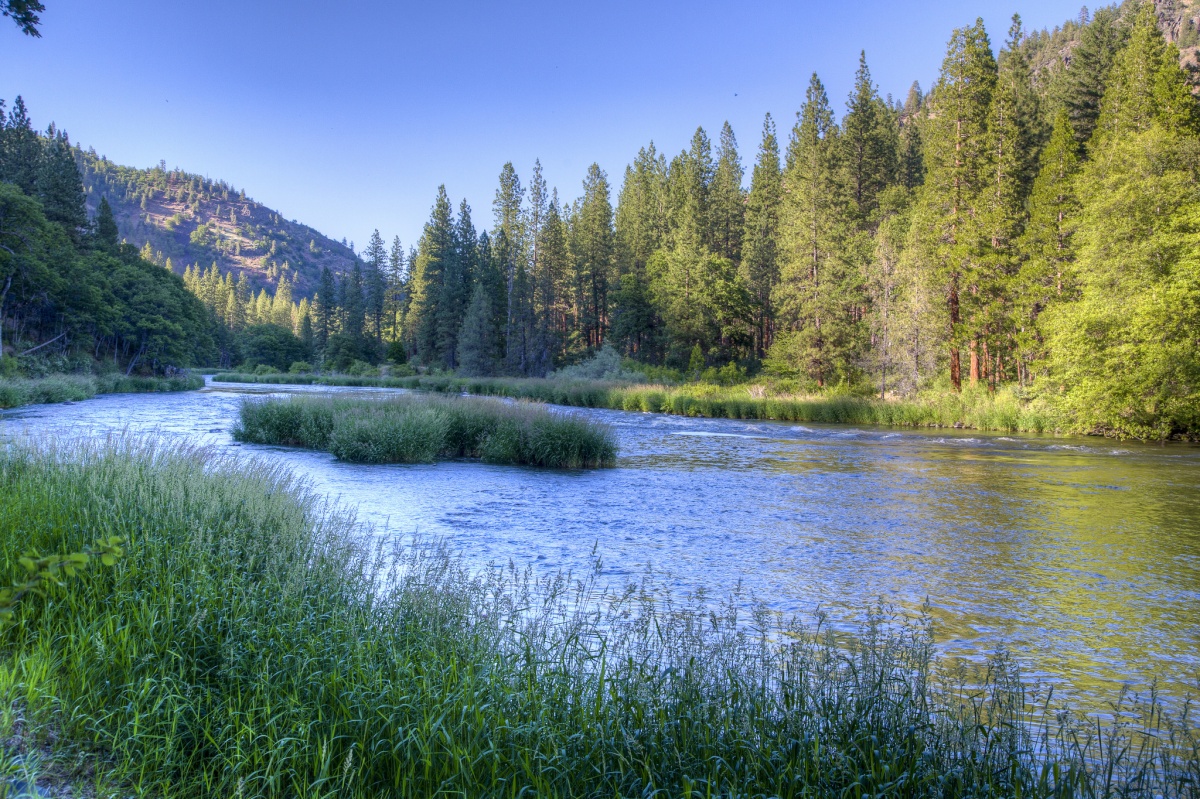 The Klamath River in Oregon. Photo by Bob Wick, Bureau of Land Management.
The removal of these four PacifiCorp dams on the Klamath River is an integral component to a basin-wide approach to restoration of the water resources of the basin. The Klamath dams block what was once the third-largest salmon run on the West Coast, which served as a staple food source for local American Indian tribes and an economic driver for coastal fishing communities. Their removal will have immediate benefits  on the community and the ecosystem. As a result of the Klamath dam removal, more than 420 miles of historic spawning and rearing habitat for salmon will be reopened, including critical cold-water streams that will protect fish from the effects of climate change, providing benefits to many salmon in the basin including the potential to increase adult Chinook salmon production by approximately 80 percent. The removal would also immediately improve water quality by eliminating reservoirs that produce serious temperature and dissolved-oxygen problems for salmon and promote the growth of summer and fall algal blooms that can be toxic to humans and animals exposed to the water in the reservoirs and the downstream river.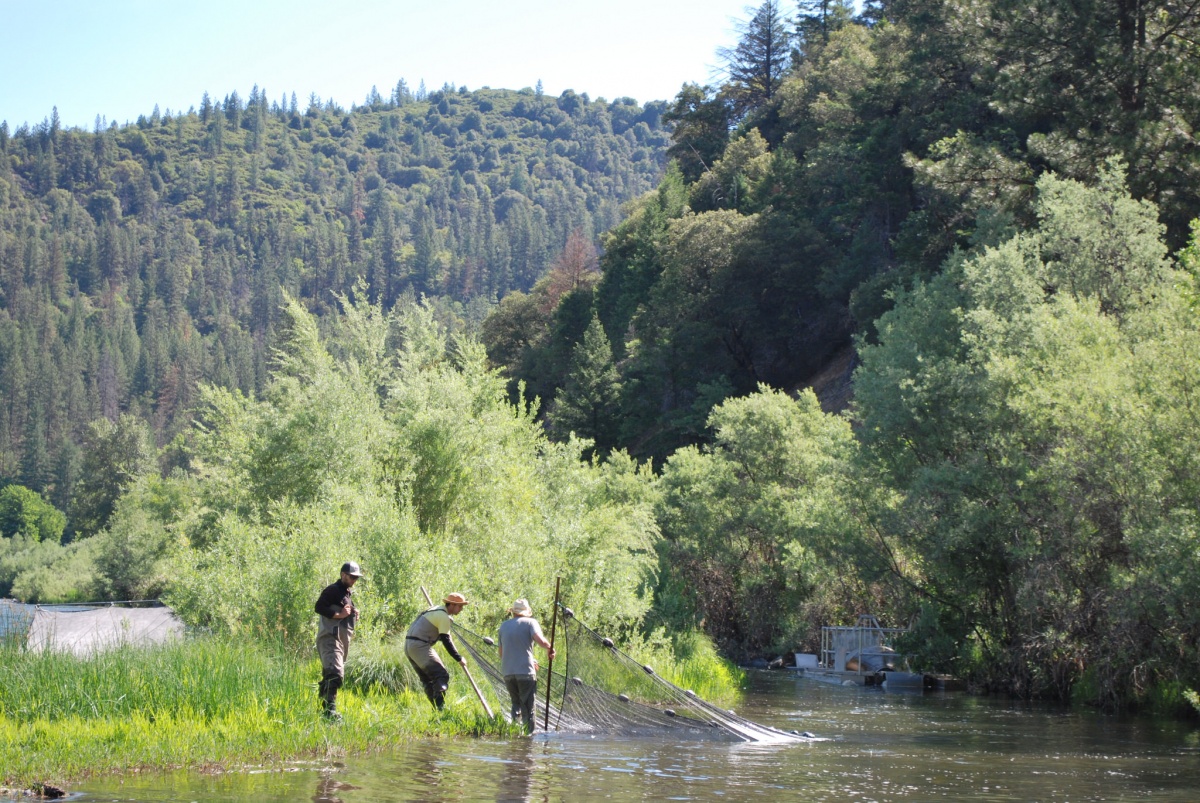 A salmon study on the Klamath River. Photo by U.S. Fish and Wildlife Service.
Just as importantly, because their removal is an integral part of a basin-wide approach to restoration of water resources, not only will the environment benefit, but it will also secure a future for farms and ranches in the basin. As Secretary Jewell says in her letter, "we are, today, exceptionally well positioned to preserve and protect a culture, an economy, and a way of life not just for the tribes but for ranchers and farmers as well. The adverse effects of the recent basin drought on both water supplies and the fishery, combined with long-term climate trends, drive home that the need to act is now and that only a basin-wide approach – where dam removal is joined with actions to preserve farming and ranching – is sustainable in the long-term."
Read the Secretary's full recommendation for the Klamath Dam removal to the Federal Energy Regulatory Commission.
Source: http://doi.gov