Washington, DC–(ENEWSPF)–February 29, 2016.  Last Thursday, the Munich Environmental Institute stated that it had found traces of glyphosate, the widely used and controversial weed-killer, in 14 of Germany's most popular beers. These findings are a potential blow to Germany's Beer Purity Law, which is highly regarded in German beer culture. Industry and German government immediately sought to downplay the results, saying that the levels found did not pose a risk to humans. However, according to the study's results, all levels found were above the glyphosate residue level allowed in drinking water. Consumers have a right to be worried about the findings, as glyphosate was classified in March 2015 as a probable carcinogen by the International Agency for Research on Cancer (IARC).
T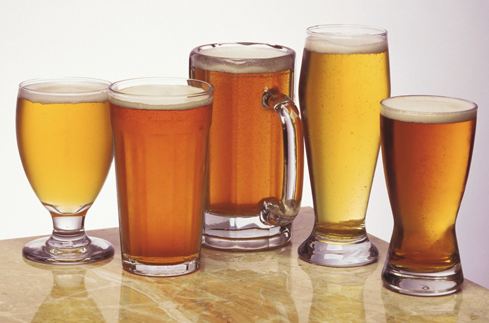 he results, published in German, are broken down by beer and by micrograms per liter in picture format. The researchers cite the laboratory test results of the 14 beers, which found glyphosate levels between 0.46 and 29.74 micrograms per liter. The highest reading is 300 times the legal limit for drinking water in Germany, which is 0.1 microgram per cubic meter. Hasseroeder, a beer brewed in Saxony-Anhalt in eastern Germany and owned by Anheuser Busch Inbev, contained the highest trace of glyphosate at 29.74 micrograms per liter. The smallest amount, 0.46 micrograms per liter, was found in Augustiner, made in Munich. Other popular beers in the study, which can also be commonly found in the U.S., were Beck's Pilsner and Franziskaner Weissbier. Germany's Federal Institute for Risk (BfR) assessment said the levels do not pose a risk to consumers' health. In contrast, geneticist Sophia Guttenberger of the Munich institute said glyphosate should simply be neither "in beer nor in our bodies."
The German purity law, or the "Reinheitsgebot," is one of the world's oldest food safety laws and is celebrating its 500th anniversary this year. Under the law, brewers have to produce beer using only malt, hops, yeast and water. The simple recipe, which was initially implemented as a health measure, has helped make German beer so famous abroad. While this may have been a sufficient health measure in 1516, we know that current food safety standards must be scrutinized and monitored at a much higher degree. The Brauer-Bund beer association said there were government controls in place in breweries to ensure that no harmful substances made their way into the production process and echoed BfR's previous statements. While government agencies and industry alike claim harmful substances are not entering the human diet, the current research shows otherwise.
In July 2015, the Soil Association disclosed findings of glyphosate residues in bread being sold in the UK. The results of that study show that glyphosate use in the UK increased by 400% in the last 20 years and is one of the three pesticides regularly found in routine testing of British bread –appearing in up to 30% of samples tested by the UK government. In August 2015, a research study published in Environmental Health linked long-term, ultra-low dose exposure to glyphosate in drinking water to adverse impacts on the health of liver and kidneys.
A scientific review was released earlier this month by a group of 14 scientists in which they expressed concern over the widespread use of glyphosate-based herbicides (GBHs), the lack of understanding regarding human exposure, and the potential health impacts. According to the report, BfR, along with a few U.S. agencies, such as the National Toxicology Program, the Centers for Disease Control and Prevention, and the Environmental Protection Agency (EPA), have not adequately kept up with cutting-edge research. "It's time to call on the global science and regulatory community to step back and take a fresh look at glyphosate since everyone on the planet is or will be exposed," said senior author Charles Benbrook, an agricultural economist and consultant at Benbrook Consulting Services.
In addition to impacts on human health, glyphosate has been linked to adverse effects on earthworms and other soil biota, as well as shape changes in amphibians. The widespread use of the chemical on genetically engineered (GE) crops has led it to be implicated in the decline of monarch butterflies, whose sole habitat to lay their eggs, milkweed plants, are being devastated as a result of incessant use of glyphosate.
Beyond Pesticides advocates for a regulatory approach that prohibits high hazard chemical use and calls for alternative assessments. The organization suggests an approach that focuses on safer alternatives that are proven effective, such as organic agriculture. Thus, the best way to avoid glyphosate residues in beer, bread and other foods is to buy and support organic agriculture and the USDA organic label. Our database, Eating With a Conscience (EWAC) provides information on the pesticides that could be present in the food we eat, and why food labeled organic is the right choice. EWAC also includes information on the impacts chemical-intensive agriculture has on farm workers, water, and our threatened pollinators.
Beer labeled organic must by law be brewed with hops that are grown with organic practices, which prohibit the use of glyphosate. Beer drinkers in the U.S. can find some great organic breweries, such as Peak Organic Brewery, Wolaver's Fine Organic Ales, Bison Brewing, and Fish Tale Organic Ales. Other breweries may have a bottle or two that are organic, even if the whole brewery is not, so just look for the USDA organic label on the bottle to be sure.
Sources: Reuters, http://www.beyondpesticides.org
All unattributed positions and opinions in this piece are those of Beyond Pesticides.