Washington, DC–(ENEWSPF)–November 7, 2014. Environmental organizations are calling on the Canadian government to reject the approval of yet another bee-killing pesticide called flupyradifurone. According to Health Canada's Pest Management Regulatory Agency (PMRA) –responsible for regulating pesticides in Canada– the new pesticide exhibits systemic behavior and "may pose a risk to bees, non-target beneficial arthropods, and freshwater and saltwater invertebrates when used for foliar application." Additionally, the pesticide "may pose a risk to birds and small wild mammals when used for soybean seed treatment." Environmentalists say approval of flupyradifurone would be irresponsible of PMRA because it would allow yet another chemical with a high potential hazard to bee health into the environment.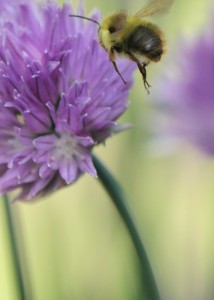 Environmental groups, including Sierra Club Canada Foundation, David Suzuki Foundation, Pollination Canada, National Farmers Union, Friends of the Earth, and Canadian Association of Physicians for the Environment, have been vocal in expressing their concern about flupyradifurone:
"Health Canada has admitted the use of neonicotinoid pesticides threatens bees and other pollinators and has promised a review, but meanwhile wants to open the door to its chemical cousin. Is the government taking the threat of systemic pesticides seriously?" said Lisa Gue, a researcher and analyst at David Suzuki Foundation.
Karen Eatwell, President of National Farmers Union – Ontario, stated, "Scientists have called for a global phase-out of neonics. The last thing we need is another systemic pesticide contaminating the environment."
Produced by Bayer CropScience, flupyradifurone is an insecticide that is part of a class of chemicals known as butenolides. Like neonicotinoid insecticides, which have been increasingly linked to bee declines around the world, flupyradifurone is a systemic chemical that is taken up by the plant and moves through its tissues into pollen, nectar, and guttation droplets and interferes with the nerve function of exposed insects. Sulfoxaflor, another controversial chemical, shares the same mode of action as flupyradifurone and neonicotinoids. Environmental and farm groups, including Beyond Pesticides, came together last year to file a legal brief in support of the nation's major beekeeping associations' lawsuit against the U.S. Environmental Protection Agency (EPA), requesting that a federal court vacate EPA's decision to register sulfoxaflor, which is also highly toxic to bees.
With a growing body of scientific literature pointing to neonicotinoid use as the prime factor in bee declines, critics are no longer mincing words over the continued use of these and other bee-killing pesticides. Recently, Ontario Environmental Commissioner Gord Miller stated, "All the science is not done, but everything that I have before me … suggests to me that this is the biggest threat to the structure and ecological integrity of the ecosystem that I have ever encountered in my life, bigger than DDT," on the release of his report titled, The Annual Report of the Environmental Commissioner of Ontario. Additionally, in September 2013, PMRA's interim report concluded that neonicotinoid contaminated dust had likely caused severe bee mortality in Ontario and Quebec in 2012 and 2013.
Neonicotinoids are chemically similar to nicotine and are pesticides that are toxic to a broad range of insect pests. As a result of neonicotinoids' systemic nature, pre-treatment practices, and other factors these dangerous pesticides have been linked to the global disappearance of honey bees and other non-target organisms, such as earthworms, birds, and aquatic invertebrates.
The plight of bees and other pollinators is an important one for all to be concerned. One third of the foods we eat are dependent on pollination services, which contribute $20-30 billion to the agricultural economy. The reliance on toxic, systemic inputs that dominate our agricultural systems and how we manage pests is being found to have more environmental costs than benefits.
Take Action: Beyond Pesticides' BEE Protective campaign has all the educational tools you need to stand up for pollinators. Some specific ways you can help are:
Sources: The Epoch Times, Health Canada, http://www.beyondpesticides.org
Photo Source: Gina H, WA
All unattributed positions and opinions in this piece are those of Beyond Pesticides