Washington, DC–(ENEWSPF)–November 3, 2014. A state ban of neonicotinoid insecticides, which have become increasingly linked to the decline of honey bees and other pollinators worldwide, is under consideration in Minnesota, making it the first state to move in this direction. A revised version of an earlier review, "Scoping a Review of Neonicotinoid Use, Registration and Insect Pollinator Impacts in Minnesota," published last week, proposes a range of state action, including "restrictions on or cancellation of products," The report also calls for a "clarification of label provisions and enforcement designed to protect non-target organisms and the environment, targeted enforcement-related education, … suggesting research topics that would further the understanding of non-target impacts from neonicotinoids for policymakers, funding agencies, regulatory agencies, etc., and proposing other measures designed to minimize the impacts of pesticide use on human health and the environment." The earlier review, issued in March, was heavily criticized for not including the option of banning neonicotinoids.
The state has already taken steps to address the environmental crisis linked to neonicotinoids. This year, Minnesota legislators passed a labeling law that will identify bee-friendly plants for consumers. On a local level,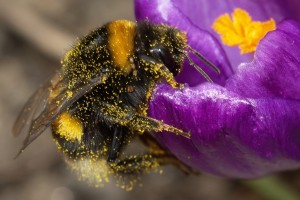 Shorewood, MN became the first city in the state to pass a bee-friendly policy. Emory University, University of Vermont Law School, Spokane (Washington), and Eugene (Oregon) have all restricted or banned the use of neonicotinoids.
The outpouring of response to the initial review included a letter submitted in May by 17 legislators with the Minnesota Democrat-Farmer-Labor (DFL) Party who insisted that the department expand the scope of its review. The 2013 Legislature called for the department to review the neonicotinoids and the group of 17 legislators were not satisfied that the agency's initial outline failed to mention the possibility of a ban or other restrictions: "The Legislature did not intend that the Department would simply rubber stamp U.S. EPA's decisions," they wrote, a reference to a review underway at the U.S. Environmental Protection Agency (EPA).
"We wanted to make sure it was clear that it's in our authority … and that that would be an option," said Gregg Regimbal, an official with the Department's Pesticide and Fertilizer Management Division.
Agriculture Secretary Tom Vilsack announced Wednesday that more than $4 million in technical and financial assistance will be provided to help farmers and ranchers in the Midwest improve the health of honey bees, but failed to mention the role of pesticides in bee decline. The effort responds to a presidential memorandum which directs the U.S. Department of Agriculture (USDA) to expand the acreage and forage value in its conservation programs. The memorandum also directs federal agencies to establish a Pollinator Health Task Force, and tasks agency leads at USDA and EPA to develop a pollinator health strategy before the close of the year. However, although the science very clearly points to neonicotinoids as a main culprit behind bee deaths, and while successful organically managed systems prove that these pesticides are not necessary, EPA has yet to take meaningful action to reduce exposure to these harmful chemicals.
For more information on how to improve pollinator health and habitat, see the BEE Protective webpage. BEE Protective includes a variety of educational materials to help encourage municipalities, campuses, and individual homeowners to adopt policies and practices that protect bees and other pollinators from harmful pesticide applications and create pesticide-free refuges for these beneficial organisms. See the Pollinator-Friendly Seeds and Nursery Directory, which lists sources of seeds and plant starts that are safe for bees and not poisoned with neonicotinoids or other pesticides.
Sources: Star Tribune, http://www.beyondpesticides.org
All unattributed positions and opinions in this piece are those of Beyond Pesticides.