Washington, DC–(ENEWSPF)–October 23, 2013. Ball State University, Indiana has cancelled plans to spray herbicides on the lawns around its K-12 school after objections from parents worried that it would expose their children to toxic chemicals. The university planned to use Trimec 992, a 2,4-D product, but a petition started by parents helped to put a stop to the weedkiller.
The spraying was scheduled for last week, the start of the fall break at Burris Laboratory School, a separate K-12 school district overseen by Ball State University. School Principal Cathlene Darragh sent an email to Burris parents last Friday explaining that the school decided against the spraying. "We have received a great deal of feedback from parents and the community about possible weed and pest control for the school lawn that was scheduled for this weekend. We have worked with the facilities department to further evaluate the need to spray. Upon further consideration, we have decided to forgo the scheduled spraying."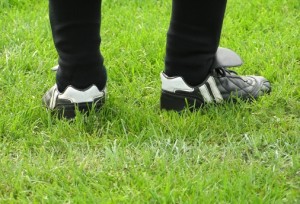 Parents mobilized after it became known that the school planned to spray Trimec 992, a 2,4-D product on school grounds. 2,4-D, a widely used herbicide in many 'weed and feed' lawn care products, is associated with many human and environmental health impacts. 2,4-D has been linked to cancer, reproductive effects, endocrine disruption, kidney and liver damage, is neurotoxic and toxic to beneficial insects (such as bees), birds, and fish. Additionally, scientific studies have confirmed significantly elevated rates of non-Hodgkin's lymphoma for farmers who use 2,4-D. For more on 2,4-D, see the Pesticde Gateway. In a similar incident, parents in Durango, Colorado created an uproar when they discovered a synthetic weed killer containing 2,4-D, dicamba, and mecoprop-p (MCCP) would be applied to the athletic fields before school games, which led to the city postponing all youth soccer games scheduled on treated fields and led to the adoption of community policy prohibiting such use.
Dave Ring, owner of The Downtown Farm Stand organic grocery store, and Michael Williamson, a parent and physician at IU Health Ball Memorial Hospital, led the charge against using the weed killer. A petition was started against the spraying that gathered more than 130 signatures as of last week. According to the petition, "spraying pesticides on the lawn of Burris School is unnecessary and puts young children at risk for exposure to toxins. Exposing children to pesticides is unnecessary because there are sustainable landscaping options that are safe for everyone."
At first, Ball State University defended its use of Trimec 992, saying that it is used on campus lawns to maintain an aesthetically pleasing look, and spraying helps to maintain a good turf environment, preventing turf from becoming hard and causing injury. However, this is a popular myth, many turf managers believe. This myth maintains that dandelions and tufts of plants not taken care of with chemicals cause children to trip and injure themselves. However, these injury claims are not substantiated. The safety of a field is not dependent on whether there is a chemical-based maintenance program; any turf that has an irregular surface can lead to falls or twisted ankles. In fact, chemically-treated turf is generally harder and more compacted than turf not treated with chemicals because there are little to no soil organisms to aerate and break up the soil. Organically managed turf, however, is not only a viable alternative to one managed with pesticides, but can be just as aesthetically pleasing and cost-effective. Many communities and school districts are foregoing chemical management of their grounds for an organic system which does not rely on toxic inputs. See Beyond Pesticides' Pesticides and Playing Fields.
Children and Pesticides Don't Mix
Children face unique hazards from pesticide exposure. They take in more pesticides relative to their body weight than adults in the food they eat and air they breathe. Their developing organ systems often make them more sensitive to toxic exposure. The U.S. EPA, National Academy of Sciences, and American Public Health Association, among others, have voiced concerns about the danger that pesticides pose to children. The body of evidence in the scientific literature shows that pesticide exposure can adversely affect a child's neurological, respiratory, immune, and endocrine system, even at low levels. Recently, the American Academy of Pediatrics published a report, which concluded that, "Children encounter pesticides daily and have unique susceptibilities to their potential toxicity."
Studies show children's developing organs create "early windows of great vulnerability" during which exposure to pesticides can cause great damage. Earlier, the National Academy of Sciences reported that children are more susceptible to chemicals than adults, and estimates that 50% of lifetime pesticide exposure occurs during the first five years of life. Children ages 6-11 nationwide have significantly higher levels of pesticide residues in their bodies than all other age categories. Even at low levels, exposure to pesticides can cause serious adverse health effects. Additionally, scientific studies show that herbicides such as 2,4-D are tracked indoors from lawns where residues may remain for up to a year in carpets, dust, air and surfaces.
Pesticides on home lawns and in schools are significant pathways of childhood exposures. Of the 30 most commonly used lawn pesticides, 19 can cause cancer, 13 are linked to birth defects, 21 can affect reproduction and 15 are nervous system toxicants. Studies find that pesticides such as 2,4-D pass from mother to child through umbilical cord blood and breast milk. According to a 2004 study, young infants and toddlers exposed to herbicides within their first year of life are 4.5 times more likely to develop asthma by the age of five, and almost 2.5 times more likely when exposed to insecticides. In spite of this, many schools across the country continue to use toxic pesticides. A 2013 survey on pesticide use on public school grounds across the state of Maine found that 51% of schools surveyed spray pesticides, many of which have been linked to human health impacts, including kidney disease and links to non-Hodgkin's Lymphoma.
On the other hand, many other school districts are turning away from managing grounds with toxic chemicals. Connecticut currently has a statewide prohibition on the use of toxic pesticides on school grounds. The state of New York also acted to protect children by passing the Child Safe Playing Field Act in 2010, which requires that all schools, preschools, and day care centers stop using pesticides on any playgrounds or playing field. In Boulder, CO, children led a rally to protest the approval of two pesticides on city parks.
Mr. Ring says he's "very happy and grateful" to Ball State President Jo Ann Gora and her administration for being responsive to parents' concerns. "Getting involved in your community does make a difference!"
You too can make a difference in your community. For information on how to manage your lawn without the use of harmful pesticides, see Beyond Pesticides' Lawns and Landscapes webpage. The site also provides an online training, Organic Land Care Basic Training for Municipal Officials and Transitioning Landscapers, to assist in going pesticide-free.
For more information, see Beyond Pesticides' Children and Schools page. To see more scientific research on the effects of pesticides on human health, see our Pesticide-Induced Diseases Database.
All unattributed positions and opinions in this piece are those of Beyond Pesticides.
Sources: The Star Press, http://www.beyondpesticides.org