Washington, DC–(ENEWSPF)–April 26, 2013. Female agricultural workers experience the same hardships as their male counterparts, but have additional responsibilities and danger at home and in the field, according to a report released by the Association of Farmworker Opportunity Programs (AFOP). While women make up only 22 percent of agricultural labor in the U.S., AFOP makes a strong argument that women face disproportionate burdens, while at the same time earning less for their labor: On average they earn just over $11,000 per year compared to male agricultural workers who earn $16,000.
Through hundreds of interviews and focus groups of female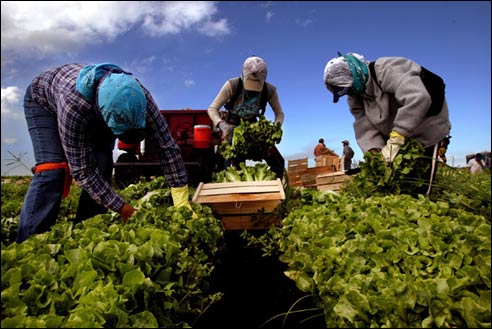 farmworkers in California and Florida, AFOP revealed some of the most dangerous conditions associated with farm work, among the worst being pesticide exposure. Carmela, a farmworker from Florida, indicated in the AFOP report that, "More than anything else, we have problems with pesticides. Sometimes they put us to work right after they've sprayed the pesticides. And this is bad for us because when we go in the field and start working with the plants, it gets in our eyes. It makes your head hurt too."
According to the EPA's "Pesticide Industry Sales and Usage: 2000 and 2001 Market Estimates," female farmworkers make up 39 percent of acute pesticide poisonings, despite making up only 22 percent of the agricultural workforce. Some of the most common complaints are headaches and eye irritation. In 2012, the American Journal of Industrial Medicine published a study demonstrating that women were are as likely as male farmworkers to suffer from pesticide related injuries and illnesses.
The report continues to highlight the impact of female farmworker exposure to carcinogens, including but not limited to pesticides; oils and fumes of farm equipment, radiation from the sun, and biological agents like human viruses also play a role in the startling cancer rates found in agricultural workers. Poor access to health care contributes to these trends. However, research has undoubtedly tied farmworker pesticide exposures to higher risks of developing leukemia, brain tumors, and non-Hodgkin's lymphoma to name a few.
Unfortunately, these exposures impact children of farmworkers as well. AFOP cites numerous studies linking agricultural work and pesticide exposure to birth defects, still births, and miscarriages, and provides stories of affected mothers. Several of these studies on US agricultural workers show that children conceived during spring planting, have higher rates of birth defects than those conceived during autumn, summer, or winter seasons. Many of these birth defects are debilitating, such as spina bifida which often leads to lifelong paralysis while others, like anencephaly, often leads to infant death.
Julia, a farmworker in Florida interviewed by AFOP, related a story of a friend exposed during pregnancy to pesticides: "I have a friend who was born without his feet. He was born that way because before they fumigated with a pesticide that was much stronger. Now the company doesn't allow pregnant women to work." While many companies do not allow women to work while pregnant, the law prohibits discrimination against women who are pregnant or of child-bearing age so many do continue to work with harmful chemicals.
In terms of regulations, the U.S. Environmental Protection Agency (EPA) attempts to protect farmworkers from pesticide exposure under its Worker Protection Standard (WPS). Under the regulations, growers must not only notify their workers when they are spraying, but also bar entry for a certain amount of time, depending on the chemical. WPS also requires that growers provide pesticide safety training to all farmworkers prior to contact with treated crops, and every five years after. According to the AFOP report, growers frequently do not comply with the law: according to their research only 32 percent of farmworkers of thousands across the country, had been trained in pesticide safety. Additionally, 80 percent of those farmworkers did not have the EPA certification to prove that they had been trained in pesticide safety.
On February 14, Beyond Pesticides joined with Earthjustice, Farmworker Justice, and a number of other environmental and farmworker organizations to submit a letter to Environmental Protection Agency (EPA) Administrator Lisa Jackson, urging for long overdue revisions to the Workers Protection Standard (WPS) of the Federal Insecticide, Fungicide and Rodenticide Act (FIFRA).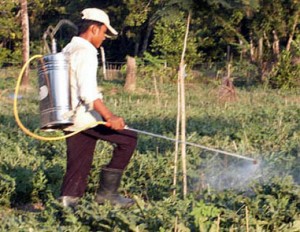 The letter states that, "EPA's inaction is unacceptable given farmworkers' persistent exposure to harmful pesticides and ineffectual enforcement of the current WPS." This letter comes after a previous petition in 2011 stressed the need for the agency to implement stronger protections for farmworkers. This letter also comes after fears from environmental and farmworker organizations over a recent EPA handout distributed during a November 2012 Pesticide Program Dialogue Committee (PPDC) meeting that downplayed the details of a 2010 EPA document released on farmworker safety. EPA has not effectively updated WPS for almost 20 years, leaving farmworkers at risk. See Daily News blog story.
"The pesticides used on the farms are being tested and OK'ed by the EPA," said Valentina Stacki, author of the AFOP report "But because there are so many different pesticides being used as the same time, no conclusive research shows the health effects of using so many of them, over a long period of time."
AFOP concludes by providing policy makers with concrete recommendations for reducing this disparity between male and female workers. They support high living wages, affordable day care, buffer zones between housing, schools and fields, as well as increases to educational and outreach efforts for farmworker health and safety. Most importantly though they recommend that "when policy makers address the risk of pesticides, they should assume chemicals are dangerous to human health…integrated pest management and pest control methods that do not involve pesticides, should be promoted…"
Consumers too, can have a direct impact on improving working conditions of farmerworkers by choosing carefully what we eat. This is why food labeled organic is the right choice. In addition to serious health questions linked to actual residues of toxic pesticides on the food we eat, our food buying decisions support or reject hazardous agricultural practices, and the protection of farmworkers and farm families. See Beyond Pesticides' guide Eating with a Conscience to see how your food choices can protect farmworkers.
Sources: Association of Farmworker Opportunity Programs, http://www.beyondpesticides.org
All unattributed positions and opinions in this piece are those of Beyond Pesticides.