Washington, DC–(ENEWSPF)–November 20, 2014. A study published in the Journal of Organic Systems this week examined potential connections between the increase in chronic diseases seen within the United States and other parts of the world over the last 20 years and the explosion of glyphosate use, finding a significant correlation between glyphosate use, genetically-engineered (GE) crops, and human health.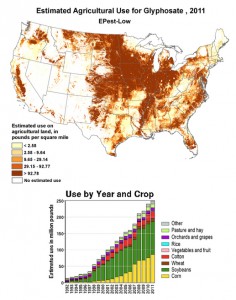 Glyphosate, one of the most popular weedkillers in both the U.S. and the world, is the active ingredient in Roundup® —the leading glyphosate product developed by Monsanto. Known as "Roundup Ready," GE soybeans, corn, cotton, and other crops have been genetically altered and patented by Monsanto to be glyphosate-tolerant. Whether a crop stems from a Roundup Ready seed or not, glyphosate is used in almost all agricultural areas of the U.S., as well as on an international scale, in conventional, non-organic farming operations.
Because of Roundup's popularity, glyphosate use has skyrocketed, leading to an estimated application of nearly 250 million pounds of the chemical across the U.S. alone and resulting in significant problems of glyphosate resistance and the increased presence of the herbicide in our food and environment.
The increased presence of glyphosate has also ushered in independent data and research on the chemical's adverse health and environmental effects. As noted in the study, "Evidence is mounting that glyphosate interferes with many metabolic processes in plants and animals and glyphosate residues have been detected in both. Glyphosate disrupts the endocrine system and the balance of gut bacteria, it damages DNA and is a driver of mutations that lead to cancer."
To explore if there was a connection between the known increase glyphosate use and similar rise in chronic diseases, the study, Genetically Engineered Crops, Glyphosate and the Deterioration of Health in the United States of America, examined U.S. government data on GE crops, glyphosate application, and disease epidemiology and developed correlation coefficients for 22 diseases. The correlations were highly significant, according to researchers, and while the correlation did not necessarily mean direct or exclusive causation, it did warrant a recommendation to reevaluate glyphosate residue levels and potential adverse health effects.
In the meantime, people concerned about the potentially toxic effects of glyphosate and other pesticides in their food, can find significant protections from GE crops and pesticides in certified organic foods. Please visit Beyond Pesticides Eating with a Conscience and Keeping Organic Strong webpages to learn more about choosing organic foods and keeping synthetic chemicals, like glyphosate, out of organic.
All unattributed positions and opinions in this piece are those of Beyond Pesticides.
Sources: Sustainable Pulse, http://www.beyondpesticides.org