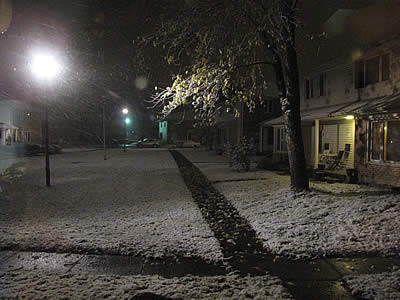 Park Forest sees its first snowfall of 2013. (Photo: Gary Kopycinski)
Park Forest, IL-(ENEWSPF)- Park Forest officially sees its first snowfall of the 2013-14 winter season.
And it's still fall.
Officially.
Be prepared to clean off your cars tomorrow morning. Or scrape off, perhaps, more appropriately.
Does anyone have any tips for making entry to your vehicle more efficient? Perhaps a window spray that helps clear the ice, or a specific brand of windshield wiper spray that helps clear the ice?
Please share with our readers in the comments below!
Snow, Arctic Cold, Returns to Chicago
Accumulating snow and the risk of slippery travel will accompany an arctic blast into Chicago early this week.
Motorists are urged to travel with caution into Tuesday morning as any untreated wet areas can freeze.
While cooler air settled over Chicagoland on Sunday, it will pale in comparison to the arctic blast set to grip the city through Tuesday.
After starting the day in the 40s Monday, temperatures plunged into the 30s during the afternoon as the arctic air arrived. Brisk winds will resulted in even lower AccuWeather.com RealFeel® temperatures.
Tuesday, however, will shape up to be Chicago's coldest day since March with temperatures struggling to climb out of the lower 30s during the day and dropping down to 20 degrees at night.
By Anthony Sagliani, Meteorologist for AccuWeather.com