Washington, DC–(ENEWSPF)–December 3, 2013. On Sunday, December 1, 2013 the European Union (EU) took critical steps to protect pollinators from the hazards associated with the use of neonicotinoid pesticides. Despite attempts by agrichemical corporations, including Bayer, and Syngenta, to delay or reverse the decision, the two-year, continent-wide ban on bee-harming pesticides has gone into effect. However, what's happening on the other side of the Atlantic is part of a larger story that raises serious concerns for the future of our food. In the United States, the Environmental Protection Agency (EPA), under the direction of Administrator Gina McCarthy, has put forth inadequate label changes that do not protect pollinators. With the support of over 60 organizations, Beyond Pesticides has helped launch a coalition-based national advertising campaign to raise awareness of pollinator declines and urge EPA to stop stalling by enacting substantive restrictions on the use of bee-harming pesticides.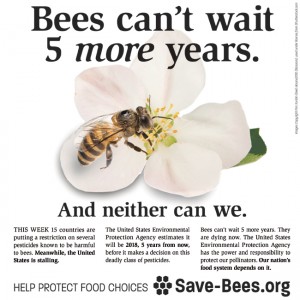 Go to save-bees.org to lend your support to these efforts.
Neonicotinoids, a relatively new class of pesticides, are often used as a seed coating on agricultural crops. Studies have found that honey bees are exposed to high concentrations of neonicotioid pesticides through the dust that is kicked up when coated seeds are planted. But that's not the only route of exposure. Neonicotinoids are systemic, meaning that as a coated seed grows into a plant the pesticide grows with it. When honey bees and other pollinators forage or drink from what are termed "guttation" (water) droplets emitted from neonicotinoid-treated crops, they are exposed to sub-lethal doses of the chemical. At this level the pesticides don't kill bees outright. Instead, they impair bees' ability to learn, to find their way back to the hive, to collect food, to produce new queens, and to mount an effective immune response.
These pesticides aren't just systemic, though. They're also persistent. A study released earlier this year, which looked at Bayer's own internal data on neonicotinoids, found that the half-life of many of these chemicals to be between 200-1000 days, with some reports showing persistence of nearly 19 years. Thus, continued and successive plantings of neonicotinoid-treated seeds only builds upon past applications and increases the overall level of these chemicals in the environment.
Beyond being systemic and persistent, neonicotinoids are acutely toxic to honey bees and other pollinators. Massive bee kills in Florida, Minnesota, and Oregon show that the agricultural use of these chemicals should not be our only concern. The Oregon Department of Agriculture recently moved to restrict certain uses of some neonicotinoids, but the new rules do not prevent the wide-ranging means by which pollinators can be exposed to these pesticides. Through nursery plants treated with neonicotinoids, we may actually be bringing these chemicals unwittingly into our backyards when attempting to plant pollinator friendly habitat. A study by Friends of the Earth earlier this year found significant levels of neonicotinoids in plants home and garden retailers such as Home Depot and Lowe's marketed as "bee-friendly."
The European Food Safety Authority studied the science, undertook a comprehensive review of the data available on the risks neonicotinoids pose to pollinators, and concluded that these chemicals pose "high acute risks" for bees. As it currently stands, EPA has provided inadequate protection for our pollinators. Despite petitions, lawsuits, and pleas from beekeepers and other groups, the agency has failed to rein in the unnecessary use these bee-killing products. As New York beekeeper Jim Doan asserts, "Beekeepers are losing colonies at an unprecedented rate – the losses are too extreme to keep up with, and our entire industry is at risk of collapse unless federal action is taken. Convening conferences and changing pesticide labels is lip service and window dressing to the issue, but has no substance." Winter losses for beekeepers from the 2012-2013 season were over 30% (as they have been every year since 2006), and some beekeepers experienced losses of up to 90% of their managed honey bees. Scientists also had serious concerns about the success of California's $2.8 billion almond harvest. In spite of this dire situation, EPA is not planning to complete its review of neonicotinoids until 2018. This is unacceptable. The ad says it all. Bees can't wait 5 more years. And neither can we.
Please support the coalition's efforts to restrict bee-toxic pesticides by visiting save-bees.org and signing the petition to EPA Administrator Gina McCarthy. For additional information on the decline of honey bees and other wild pollinators, and a history of our efforts to get EPA to act, visit Beyond Pesticides' BEE Protective webpage.
All unattributed positions and opinions in this piece are those of Beyond Pesticides.
Source: http://www.beyondpesticides.org