Washington, DC–(ENEWSPF)–September 24, 2013. Last month a new report co-released by Beyond Pesticides, Friends of the Earth, and other allies revealed that the neonicotinoids (neonics), the pesticides implicated in global bee die-offs, may be lurking in our own gardens.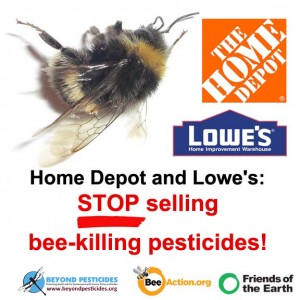 The study showed that more than half of the "bee-friendly" plants sold at retailers like Home Depot and Lowe's contained these "bee-killing" pesticides.Our coalition and nearly 200,000 people across the country have stepped-up to tell Home Depot and Lowe's to stop selling these poisoned plants and off-the-shelf bee-killing pesticides.
So far neither company has responded.
We need to send a clear message to Lowe's and Home Depot that it is not okay to further endanger our imperiled pollinators. With beekeepers reporting losses up to 90% last winter, consumers should be able to provide a true sanctuary for honey bees and other pollinators.
Join us this week in a social media "swarm" on Facebook and Twitter to send Home Depot and Lowe's an urgent demand: "Stop selling bee-killing pesticides and poisoned 'bee-friendly' plants!"
I. Copy and post this message on Home Depot and Lowe's Facebook pages:
Home Depot/Lowe's: Stop selling bee-killing pesticides and poisoned bee-friendly plants! www.beyondpesticides.org/pollinators/index.phpwww.BeeAction.org
II. Click on any of these tweets to tweet them at Home Depot and Lowe's Twitter accounts:
@Homedepot @Lowes: 1 in 3 bites of food need #bees! Stop selling bee-killing pesticides! #BeeAction @bpncamp @foe_us www.beeaction.org
Buzz kill: @Home Depot @Lowes: Stop selling bee-killing pesticides #savethebees #BeeAction @bpncamp @foe_us:www.beeaction.org
III. If you haven't already, sign the petition telling retailers to stop selling poisoned plants!
Europe has already placed a ban on bee-killing pesticides, and top retailers in the UK are refusing to sell them. Beyond Pesticides and allies are challenging top garden retailers to make the same commitment here in the U.S.
Bees are essential to our food system and they are dying at alarming rates. We can protect bees in our own backyards and gardens right now by rejecting neonics and demanding that top retailers stop selling these bee-killing pesticides. Please join us in asking Lowe's and Home Depot to BEE Protective and give bees a chance by not selling bee-killing pesticides. The bees have enough troubles — our backyard gardens should be havens for bees — not death traps.
Bee part of the solution! Join us on Home Depot and Lowe's Facebook pages to tell these home and garden giants to step up and protect bees!
Don't have a Facebook or Twitter account? Give Home Depot and Lowe's a call!
Home Depot: 1-800-466-3337
Lowe's: 1-800-445-6937
Background
Neonicotinoids are a relatively new class of insecticides that share a common mode of action that affect the central nervous system of insects, resulting in paralysis and death. They include imidacloprid, acetamiprid, clothianidin, dinotefuran, nithiazine, thiacloprid and thiamethoxam. Peer-reviewed science has repeatedly identified these insecticides as highly toxic to honey bees and other pollinators. Once applied, plants take up these pesticides and exude them in their pollen and nectar, subsequently endangering any pollinators that forage on these contaminated plants.
With one in three bites of food reliant on bees and other beneficial species for fruit production, the decline of these important species demands swift action. The mounting scientific evidence, along with unprecedented annual colony losses at 40 to 90 percent this year, demonstrate the impacts that these pesticides are having on these fragile beings.
To save the bees, Beyond Pesticides is keeping the pressure on at all fronts.
In addition to asking Lowe's and Home Depot to stop the sale of of these products, we urge you to download and customize this sample letter and take it in to your local retailer customer service manager. Please tell us when you do (include store name, city and state), so we can follow-up.
Tell your member of Congress to support the Save America's Pollinators Act introduced last month by U.S. Representatives Earl Blumenauer (D, Ore.) and John Conyers (D, Mich.) to suspend the use of neonicotiniods on bee-attractive plants until EPA reviews all of the available data, including field studies. The bill, which Beyond Pesticides helped draft, aims to provide long overdue protections for America's imperiled pollinators.
Take the pollinator protection pledge to devote your own yard, garden, park, and backyard as a Pesticide-Free Zone that you can manage as organic pollinator habitat.
Encourage your local schools, government agencies, religious institutions and businesses to use their buying power to go neonic-free. Urge your municipality, institution or company to adopt the model resolution which makes the commitment to protect pollinators from harmful pesticide applications and create pesticide-free refuges for these beneficial organisms.
Plant your own colorful, bee-friendly garden using our BEE Protective Habitat Guide.
Tell your friends and family about the dangers of neonicotinoids to honey bees and pollinators and tell them how they can Manage Landscapes with Pollinators in Mind.
Let's BEE Protective and support a shift away from the use of these toxic chemicals by encouraging organic methods and sustainable land management practices in your home, campus, or community.
All unattributed positions and opinions in this piece are those of Beyond Pesticides.
Source: http://www.beyondpesticides.org