Washington, DC–(ENEWSPF)–October 21, 2014. Due in large part to the use of rodenticides in the cultivation of illegal marijuana grow operations, earlier this month the U.S. Fish and Wildlife Service (FWS) announced a proposal to list fishers, medium sized carnivores of the weasel family, as threatened under the Endangered Species Act. Fishers are the second species in the West that have been recognized by regulators as adversely affected by illegal marijuana grow operations. Coho salmon have also be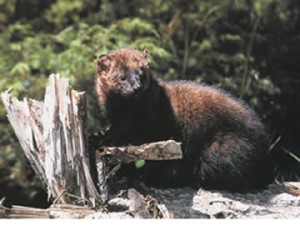 en affected as a result of pesticide and fertilizer use, water withdrawals, and clear-cut logging that have silted, dried up, and polluted streams where the salmon run.
Fishers, which are found throughout North America and have been part of the forests in Pacific states for thousands of years, have all but virtually disappeared in much Washington, Oregon and California, according to FWS. Illegal marijuana grow operations have been a troubling source of wildlife deaths as growers often use "industrial-sized quantities of poison in forests to fend off rodents," says Humboldt County District Supervisor Rex Bohn. A study published in PLOS One in 2012 found that 79% of fishers surrounding an illegal marijuana grow operation had been exposed to anticoagulant rodenticides. Fishers and other top predators can be exposed directly by ingesting rodenticide bait scattered around fields, or indirectly by consuming prey that was exposed. Predators that are not immediately killed by rodenticides can become more susceptible to disease and suffer lethargy, making it more difficult, for example, to dodge oncoming traffic if crossing a road.
In March, as a result of widespread wildlife poisonings, including the death of Los Angeles' iconic Mountain Lion, and significant threats to young children, the state of California announced it was restricting the use of second generation anticoagulant rodenticides, including the chemicals brodifacoum, bromadiolone, difenacoum, and difethialone found in d-CON brand products, as California-restricted materials, effectively removing them from commercial sale. However, one week later, the manufacturer of these "d-CON" rodenticides, Reckitt Benckiser, sued the state of California to stop it from acting. "It's disgusting that d-CON continues to challenge common-sense controls for protecting wildlife, children and pets," said Jonathan Evans, toxics and endangered species campaign director at the Center for Biological Diversity, in response to the company's lawsuit. "It's time to put public safety before corporate profits."
Prior to California's actions, company had refused to adopt voluntary risk mitigation measures established by the US. Environmental Protection Agency in 2008 that would remove rodenticide products in unsecured bait stations from store shelves. When EPA slated d-CON products for cancellation, the manufacturer used legal tactics to challenge EPA's decision, the first time in 20 years that a company declined to implement EPA risk mitigation measures for pesticide products.
Responding to corporate recklessness, Beyond Pesticides joined with a coalition of consumer, health, and environmental organization to launch the Care About Kids campaign, asking major U.S. retailers to stop selling d-CON rodenticides linked to the deaths of children, as well as wildlife.
In May, Reckitt Benckiser reached a compromise with EPA to stop production of its loose d-CON bait products by the end of 2014, but leave the products in the pipeline on the market. The manufacturer must stop sale to retailers by March 31, 2015, though there is no set timeline for retailers to stop selling these products. This action falls far short of the urgent protections needed for children and wildlife. "It is outrageous that a highly toxic product associated with the poisoning of children, pets, and wildlife remains on the market one more day, let alone for the years it will take to exhaust supplies," said Jay Feldman, executive director of Beyond Pesticides. "One child harmed from the continued sale of this product is one child too many," said Mr. Feldman. Between 1993 and 2008, the American Association of Poison Control Centers logged between 12,000 to 15,000 poison exposure reports of children under the age of six from mouse and rat baits. Rodent control in homes can be effectively dealt with through alternatives such as sealing gaps around the doors by replacing worn thresholds and weather stripping, installing door sweeps, and caulking openings around water pipes, electric wires, cables, and vents.
Production until year's end and the continued availability of these products on store shelves gives illegal marijuana cultivators easy access to a product that has been formally implicated as unacceptable for use by a wide range of federal and state regulators. While attempts are being made to reintroduce fishers in the Olympic Peninsula in Washington and Crater Lake in Oregon, long-time fisher habitat in northern California and southern Oregon has declined to anywhere from a few hundred to 4,000.
Take action to protect children and wildlife by joining the Care About Kids campaign. Send a letter to major retailers asking them to remove harmful d-CON products from store shelves.
Sources: Fish and Wildlife Service, http://www.beyondpesticides.org
All unattributed positions and opinions in this piece are those of Beyond Pesticides.