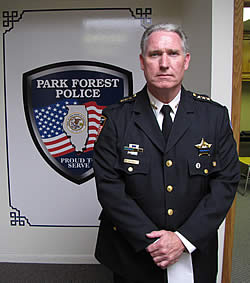 Retired Park Forest Police Chief Thomas Fleming. (Photo: ENEWSPF)
Park Forest, IL–(ENEWSPF)– Police Chief Thomas Fleming, who recently retired from the Village of Park Forest Police Department, will be honored Monday afternoon at a special gathering at Dining on the Green. The public is invited to attend the event which begins at 5:00 p.m. The public is also invited to the Village Hall at 7:00 p.m. when Mayor Ostenburg and the Board of Trustees will present the retired chief with a resolution honoring his service to the community.
Fleming served the residents of Park Forest for 26 years. In a statement on the PFPD's Web site, the deparment touts a few of his accomplishments:
Chief Fleming rose through the ranks from patrol officer to Chief of Police, serving in the patrol division, community policing, investigations, and special operations along the way. He earned his Master's Degree in Public Administration and is a graduate of the prestigious FBI National Academy in Quantico, Virginia.

During his tenure Chief Fleming instituted the Guided Vision community service program, the Eastside Sports Club, Park Forest Shooters (a police-sponsored wrestling club), and expanded the Police Athletic Activity Center, among many other contributions. A proclamation in his honor will be read at the Village Board Meeting on Monday, July 18th.
Chief Thomas Fleming. (PHOTO SUPPLIED)
Chief Fleming graduated with a BS degree in Law Enforcement and Administration from Western Illinois University in 1978. He earned his Master's of Public Administration in 1985 from Governors State University. It was in 1985 that Fleming joined the Park Forest Police Department, earning the rank of chief in October 2004.
As chief, Fleming set the mission statement and practices of the police department to engage the community by forming partnerships with the multicultural/ diverse residents of Park Forest. "This was accomplished by taking the lead in regular neighborhood meetings and enhancing and encouraging accountability among the residents," Fleming said.
He was also responsible for training and developing junior and senior staff members, recruiting and developing diverse PFPD candidates, and providing opportunities for continued staff development.
Fleming said he also worked to improve employee safety practices.
Chief Fleming gets a flu shot at the Park Forest Health Department in October 2009. (Photo: Gary Kopycinski)
Under Fleming's tenure and on his recommendation, the Village of Park Forest adopted the Crime Free Housing Ordinance, credited with a sixteen percent reduction in calls for police service throughout the village within three years of implementation.
"I am most proud of the PAAC program which Brian Tas and I started in 1996 when I was the Community Policing corporal," the chief says. "I feel that PAAC has touched hundreds of young people in the Village and been a great help to many parents. The Youth Services that the Park Forest Police Department provides the community is unlike any other police department in the area."
PAAC, the Police Athletic & Activities Center, was developed as an effort "to positively connect with youth year round," he says.
PAAC evolved through the years and now includes the following programs:
Saturday Night Live – an early evening senior high open-gym/activities center, operated every Saturday night October to April.
Shooters – a youth instructional wrestling club for children grades 1 through 8, running biweekly, January to March.
Central Park Sports Club/PAAC – serves over 300 children a day for 7 summer weeks, during the most at risk hours (2pm to 9pm), providing athletic and character developing activities and utilizing college students and young local teachers as staff/role models.
Guided Vision Program – a weekly Saturday morning restorative justice youth/parent counseling program staffed with senior police members and master's degree students in the school guidance counseling program at Governor's State University.
The Brass and Former Brass on stage at the Police Awards Ceremony, November 2010. Chief Fleming is on the far left. To his right: Deputy Chief Mike McNamara, Robert Maeyama, Francis DioGuardi, South Holland Deputy Police Chief Greg Baker, John Lancaster, Maurice Fuentes, and current Acting Chief Cliff Butz (standing) (Photo: Gary Kopycinski)