Washington, DC–(ENEWSPF)–February 12, 2013. Is 2013 the year colony collapse disorder (CCD) begins impacting our food supply? According to the American Bee Journal, almond growers in California may not have access to the honey bee colonies necessary to pollinate this year's crop. "We need 1.6 million colonies, or two colonies per acre, and California has only about 500,000 colonies that can be used for that purpose. We need to bring in a million more colonies but due to the winter losses, we may not have enough bees," says Eric Mussen, PhD, extension apiculturist at the University of California Davis (UC Davis) Department ofEntomology.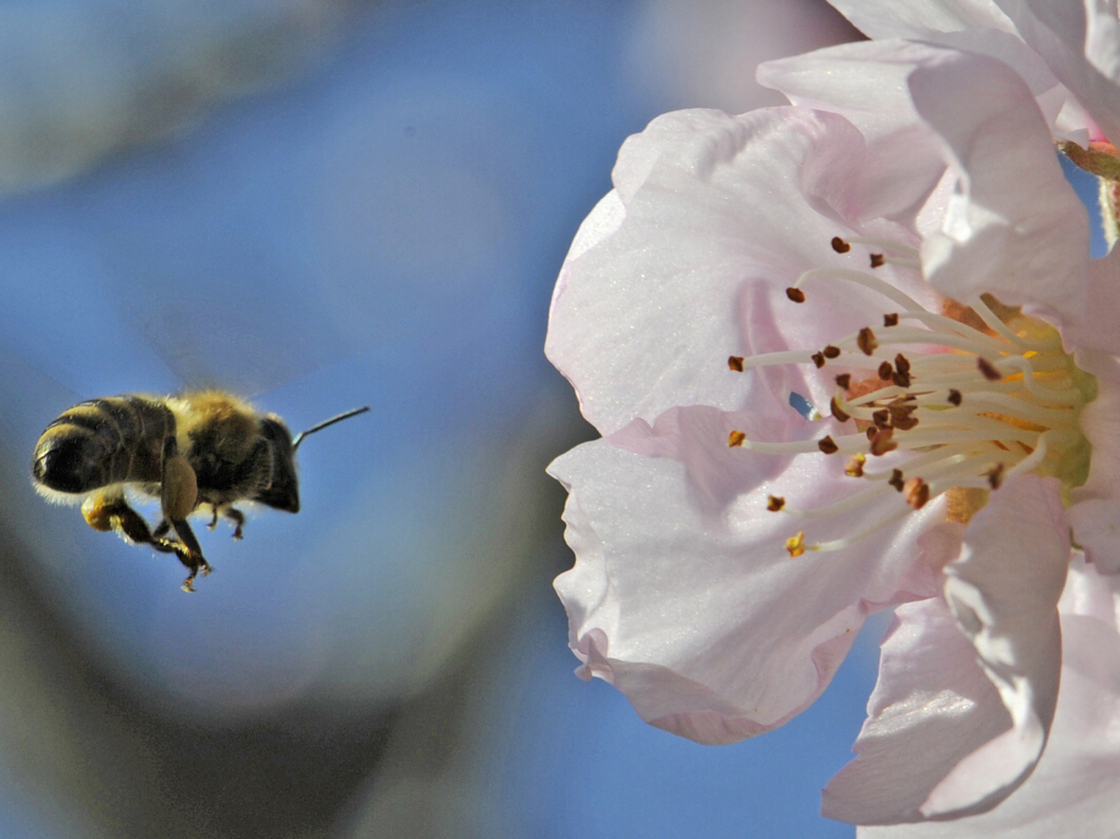 The problem, Dr. Mussen explains, is due to heavy losses this winter and less populous hives overall. Some beekeepers are reporting astonishing winter losses upwards of 90 percent, and in select cases complete colony loss. Honey production in 2012 was one of the worst years in the history of the United States, Dr. Mussen notes. Less honey means less food for overwintering bees, putting increased stress on colonies attempting to fight off the spread of CCD.
CCD is the name given to the precipitous decline of honey bee populations around the world beginning in 2006. The U.S. Department of Agriculture (USDA) reports that, on average, beekeepers are losing over 30% of their honey bee colonies each year, twice what is considered normal. However, winter 2012 may turn out to be the "worst year for bees." While CCD appears to have multiple interacting causes, including malnutrition, pests, parasites, pathogens, and stress, a range of scientific evidence points to sublethal pesticide exposures as important contributing factors. Neonicotiniods, a class of potent systemic insecticides, are particularly suspect, especially in combination with the dozens of other pesticides bees are exposed to in their hive and when foraging.
Key symptoms of CCD include:
1) disappearance of the hive's worker bees;
2) presence of the queen bee and absence of invaders;
3) presence of food stores and a capped brood.
Clothianidin, thiamethoxam, imidicloprid, and new systemic pesticide sulfoxaflor, currently under U.S. Environmental Protection Agency (EPA), represent enormous threats to the long-term survival of honey bee colonies both in the U.S. and across the globe. Most recently, the European Commission announced its position against the use of neonicotinoid insecticides, urging member states within the European Union (EU) to impose a two year suspension on their use. However, in the U.S., EPA has failed to act. In 2012, beekeepers, Beyond Pesticides, the Center for Food Safety, and Pesticide Action Network North America (PANNA) filed an emergency legal petition with EPA to suspend the use of clothianidin, urging the agency to adopt safeguards. The petition, supported by over one million citizen petition signatures, targets the pesticide for its harmful impacts on honey bees. The legal petition cites that EPA failed to adequately review relevant data to support the "no unreasonable adverse effects" standards for pollinators. Despite the absence of a relevant field study for pollinators, EPA has not only refused to take action, but is currently in the process of attempting to conditionally registering another systemic pesticide "sulfoxaflor" without a long-term study on colony health.
Since the early 20th century, 'migratory' beekeepers have provided a critical service to U.S. agriculture by moving their hives seasonally to pollinate a wide variety of crops. Commercial beekeeping adds between $15 to $20 billion dollars in economic value to agriculture each year.
Almonds are one of the most bee-dependent crops, relying almost completely on honey bees and other pollinators in order to set fruit. California is responsible for nearly 80% of global almond production; as the state's largest export, 70% of California almonds are shipped overseas for consumption. For the winter of 2010/11, California's almond crops were worth approximately $2.84 billion dollars, with honey bees accounting for $2 billion dollars in value through pollination services.
This year, fewer honey bees could mean a smaller almond crop for California. Even the colonies that will be available to pollinate won't be as populous, Dr. Mussen notes. "Almond growers usually want at least eight frames of bees per hive," Dr. Mussen remarked to the American Bee Journal, "but this year they may be lucky to get six. That's one-third less bees per hive to pollinate the orchards."
And almond growers pay a significant cost to get bee colonies on their farm – an average of $150 dollars a hive. According to the American Bee Journal, "Already brokers are getting calls from beekeepers saying 'I can't fulfill the contract. I'm going to be short.'"
Dr. Mussen does hold out a bit of hope for this year's almond crop though. "Bees pollinate almonds on a community basis," he says, "The strong colonies will make up for the weak colonies. The strong colonies will clean the orchard of pollen by early afternoon and then go down the street and grab food from nearby orchards." Good weather is also an important part of a successful almond harvest. "It's not always the bees' fault if the nuts fail to grow," he says.
Even if this year's record-breaking forecast harvest of 2.10 billion pounds of almonds does narrowly come to fruition, it is evident that, given such sustained and continuing honey bee losses, we need our regulators to act. Now is the time to fight back against the unnecessary risks government agencies have allowed our pollinators to be exposed to. Take Action by midnight tonight and provide a public comment to EPA over the proposed conditional registration of sulfoxaflor. For additional information on what you can do to protect pollinators, visit Beyond Pesticides pollinators webpage.
From April 5-6, Beyond Pesticides is convening its 31st National Pesticide Forum. New Mexican honey bee inspector, president of the New Mexico Beekeepers Association, and a beekeeper for over 30 years, Les Crowder, will address the forum on organic and natural solutions for problems commonly treated with chemicals, and the role beekeepers can play in protecting biodiversity. Join us in Albuqueque, New Mexico for a discussion on strategies that we all can take to protect pollinators.
All unattributed positions and opinions in this piece are those of Beyond Pesticides.
Sources: American Bee Journal, Daily Democrat (mirror), http://www.beyondpesticides.org
Photo Source: NPR